Located in the Mount Lofty Ranges east of Adelaide, the 'hills' are known for their cool climate grape varieties and wines. The highest vineyards are sited between 600-650 metres altitude in areas such as Crafers, Summertown, Piccadilly and Carey Gully. With over 90 wine labels, and 50 cellar doors, they are acknowledged internationally for their distinctive premium wines, viticulture and stunning scenery.
I had been to the Adelaide Hills before, but it was many years ago. I knew there were some lovely sparklings being produced there, but I hadn't realised the extent. Diverse in terms of climate, soil and topography, I hadn't expected to find a sparkling wine paradise.
An easy day trip from Adelaide, you can be tasting at a Cellar Door in around half an hour. There are two registered sub-regions, Lenswood and Piccadilly Valley, and a lot of sparkling producers are grouped together within easy travelling distance between each other.
To really relax and have a nice day out, it is much better to book a driver for the day. I spent a few days in the region and travelled with two different companies. Touring Adelaide South Australia, have luxury eight-seat vehicles, and the owner Darryl and his team are Adelaide Hills locals and provide small charters, tours and transfers. This option worked well for me travelling on my own for a day, and I also had a few friends join me for one day of touring, and I booked my transfer to the airport direct from the Adelaide Hills for my flight home with them. Darryl's motto is "less fuss, with us", and it was.
Taste South Australia specialise in wine tours and is owned and run by Mary Anne Kennedy. I've known Mary Anne for years through my different roles in the tourism industry, and she has built a strong reputation curating specialist wine tours for international visitors. It was lovely catching up as we toured in her 8-seat Mercedes van, listening to her insights of the local area.
It is great being able to tap into this local knowledge from tour operators, as well as the input of the Adelaide Hills Wine Region association through their team and their website, which has some great search and planning tools, as does the Visit Adelaide Hills website
I mentioned an easy day trip, but you could easily spend several days here exploring the Sparkling Wines alone. We were very blessed to have many of these on tasting at The Bubbles Festival Adelaide, and I've enjoyed creating some special Bubbly Weekend tour itineraries of the Adelaide Hills for our subscribers, which we hope to be able to offer next year.
I stayed for a few nights in Hahndorf (an ideal spot to be based for local touring), and there are also a few Cellar Doors located in town.
I discovered that there is also amazing sparkling wine heritage in the 'hills'. I love hearing the stories of the people and meeting these mainly family-owned wineries and winemakers is always one of the highlights of visiting Cellar Doors. Everyone is so passionate about the area, their wines and so friendly that I feel like I made many new friends on my visit.
While this is not a fully inclusive list of the Sparkling Cellar Doors in the region, it highlights some of the region's top sparklings to help you plan a trip. I've included links to each of the Cellar Doors, and I suggest that you check opening times and make bookings in advance. During the COVID pandemic, opening times may change and availability might be limited if there are restrictions.
Penfolds Magill Estate
Magill Estate is a short drive from the Adelaide CBD, with views over the vines, the city, and extending out to the sea. There are two restaurants, with Magill Estate Kitchen offering casual dining, and the Magill Estate Restaurant offering a fine dining experience. You may wonder why I was visiting the 'home of Grange' on a sparkling Cellar Doors tour, but this was to experience an Aussie Champagne!
I loved taking the tour of the Cellar Door, with so much Australian wine making history. It all began with Christopher Rawson Penfold, a doctor with an eye for medicinal winemaking, who set about inventing tonics, brandies and fortified wines made from grapes and Australian sunshine. Yes, I am sure many of us can attest to drinking wine for medicinal purposes! Arriving from England with his wife Mary, they brought with them vine cuttings they had carried on their voyage. In 1844, the fledging vineyard was officially established as the Penfolds wine company at Magill Estate.
As with many of the great women of Champagne, once again it seems the business growth was under the helm of Mary Penfold. Although success was attributed to Dr Penfold, Mary, it seems, is the unsung chief of Penfolds with many of the experimentations, growth and winemaking philosophies originating from her direction. As the company grew, so too did Dr Penfold's medical reputation, leaving much of the running of the winery to Mary Penfold, and on Christopher's death in 1870, Mary assumed total responsibility for the winery.
Everything she knew about wine, she taught herself – insisting on having the grapes blended to her own taste. A woman standing confidently at the helm of a thriving business in the 1800s was unheard of. She'd command from a white mare, watching over the vineyard with her treasured spyglass close at hand.
When Mary retired, she ceded management to her daughter, Georgina. At the time, Penfolds was producing one third of all South Australia's wine. By 1907, Penfolds had become South Australia's largest winery.
The next big moment in the Penfolds history was in 1948 with the arrival of Max Schubert as the company's first Chief Winemaker. Known for creating Penfolds Grange in the 1950s (with techniques and varieties he learnt in France), I was surprised to discover the first releases were not popular. The Australian tastes of the time were more suited to a sweeter wine than a dry red table wine. Max was ordered to cease production, but continued to do so in secret, which turned into a blessing – with bottles of Grange now commanding huge prices at auction.
But I wasn't there for the Grange, I was there for the champagne, and I was very fortunate to have Zöe Warrington, the Penfolds Australian Ambassador, escort me on a private tour. The champagnes are not usually on tasting at the Cellar Door but are available by the glass in the restaurants.
Of course, there are no longer any Australian produced sparkling wines that can be labelled champagne. This co-branded label is a collaboration with family-owned Champagne House Thiénot, which has created the first Penfolds limited release champagne. Thiénot is a respected player in the world of Champagne, but this was also hands-on involvement from Penfolds. The wines represent the joint efforts of Thiénot, Chef de Cave, Nicolas Uriel who, together with Peter Gago, Penfolds Chief Winemaker, shared agreed style and quality ambitions, and Peter was hands on throughout the blending and tirage stage to create these champagnes – made from grapes sourced from prestigious and highly regarded Grand Cru vineyards in Champagne from the spectacular 2012 vintage.
The launch was held to symbolically celebrate the Penfold 175th anniversary, and a wonderful French and Australian wine alliance that produces these limited release champagnes.
Chardonnay Pinot Noir Cuvèe 2012
An inviting pale straw hue, not quite yet revealing or reflecting expectant tints of yellow/gold.
Nose: Rich and complex. Freshly cut hay, honeysuckle, scents of crème brulee and toffee apple. Classic champagne chalk.
Linear and defined. All engulfed by an ethereal, softened and almost fairy floss caress.
Palate: Pecan, Brazil nut, apple and spice. Lovely fruit fullness on the mid-palate finished with seductive tension from the acidity. Complete and expressive.
Blanc de Blancs Grand Cru 2012
The ideal was to create an extraordinary 2012 Blanc de Blancs Grand Cru. A champagne worthy of celebrating Penfolds past, present and future.
Lovely pale yellow/straw colour it is 100% Chardonnay from Avize.
Nose: A harmonious ascent of citrus (primarily lemon zest) intermingled with wafts of subtle florals (white lily). From the patisserie – just-baked madeleine, a hint of nuttiness (fresh almond) and scents of light honey. Hints of barley sugar/confectionary mingle with delicate white and yellow stone fruits
Palate: Linear and defined. All engulfed by an ethereal, softened and almost fairy floss caress. Notes of lemon sorbet and vanilla pannacotta, with a whisked light cream. A measured generosity of flavour with a suggestion of varietal savouriness and regional chalk. The complete Blanc de Blancs package.
Blanc de Noirs Grand Cru 2012
100% Pinot Noir from the 2012 vintage all Grand Cru parcels from Aÿ.
The colour is pale yellow/straw. The nose has aromas of nuttiness – more pistachio than almond.
Wafts of dried fruits aromatically verge towards that of a freshly assembled potpourri of dried flowers. Puzzlingly marmalade and cumquat high notes bely variety.
Ripe yet delicate. Upon pouring – the faintest suggestion of coffee bean. Upon sitting – crème anglaise lightly laced with dried apricot, wild raspberry. Upon waiting – 'softened'/desirable phenolics prevail – inducing a defined finish with grip and panache. Refreshingly long-lasting in mouth.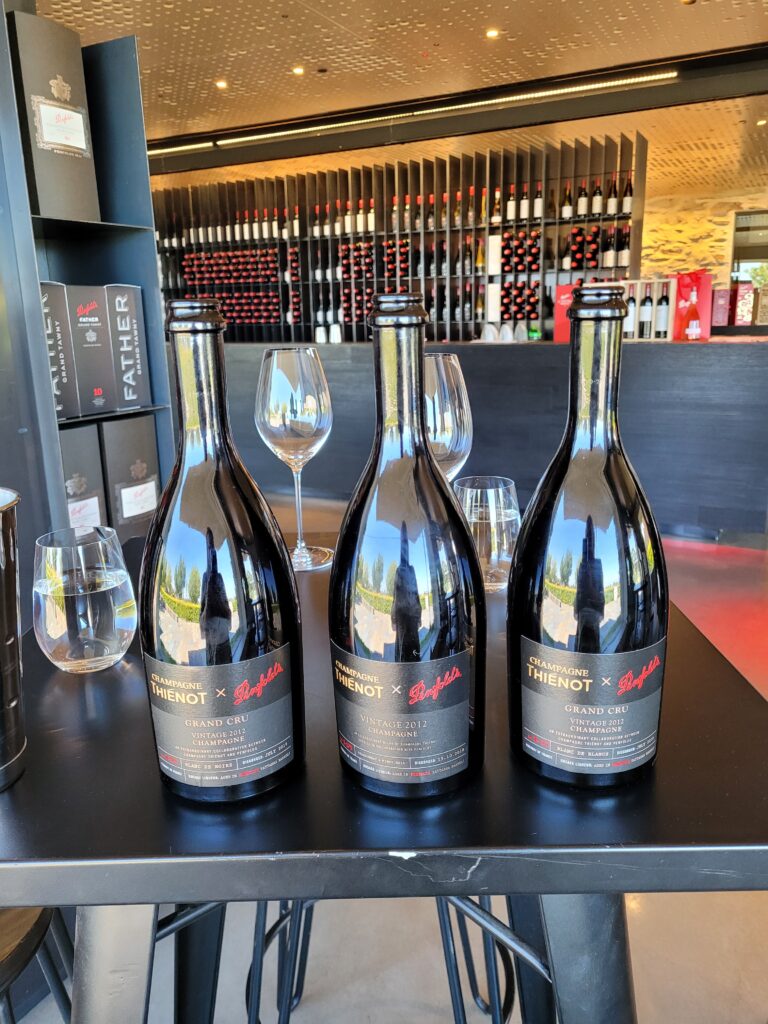 Lambrooks
There is not a Cellar Door, but you may be able to organise tasting activities for groups of friends. Lambrooks have a funky warehouse in the Adelaide suburb of Norwood at which they host some pop-up wine events, as well as being available for hire.
Lambrooks is the husband and wife team of Adam and Brooke Lampit. I met with Adam, who is the winemaker at their warehouse. He told me that they were both working in the industry and knew their way around a bottle of wine. Adam (formerly working as a winemaker at Bird in Hand), is passionate about wine, they wanted to be involved in every part of the process to create their own wine.
Adam explained that Lambrook wine is about craftsmanship, friendship, family, love, passion and bringing out the best of the Adelaide Hills. Each grape variety (mostly hand-picked) comes from a small parcel of fruit, specifically selected for optimum growing potential. Lambrooks use traditional methods like hand plunging and open fermentation, and there is no compromise. If the fruit is not up to scratch, they won't make the wine. The results are bearing fruit with Lambrook wines now included on lists in top restaurants. There are two sparklings available:
Sparks
Hand-picked then whole-bunch cold pressed for up to 48 hours. I describe this as fun and fruity. It is a stunning salmon pink colour that parties on the palate. A fresh and young Charmat method sparkling pinot noir of ultra-pale salmon hue, accented with tangy strawberry and elegant red-apple fruit. Lively acidity and well-integrated dosage. For those that love a Charmat method sparkling, it is perfect – light and easy drinking, refreshing and vibrant.
Emerson
This one is named after one of their daughters (pictured). Adam told me that it took until 2017 for the vintage to be considered Emerson worthy, and as a traditional method it had only just recently been released. It is whole-bunch cold pressed then bottle fermented for 4.5 years on lees. Showcasing Adelaide Hills pinot noir with depth and presence in red apple and subtle strawberry fruit, layered with the toasty, roast-nut complexity you would expect from extended ageing on lees. A noble effort for a first release, upholding the focus of cool-climate acidity, carrying the finish long and restrained, well-matched to a low dosage.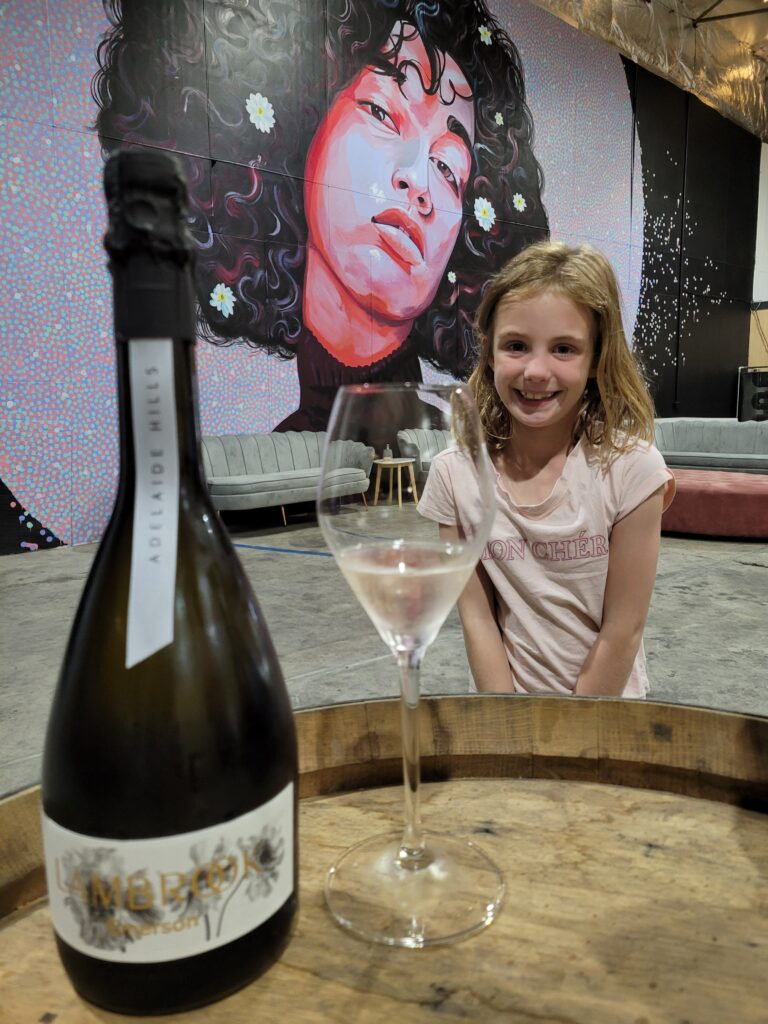 Deviation Road
Deviation Road produces exciting cool climate wines from mature vineyard resources, where owners, Hamish and Kate Laurie, continue a five-generation winemaking tradition. Devoted to the high-altitude sites, and with Kate's French oenology training, the wines they produce are both traditional and contemporary.
Hamish has winemaking in his blood. His great-great-grandmother was South Australia's first female winemaker and his vineyard is one of the oldest in the region. Together with his father, he created Hillstowe wines in 1991, which became a successful international brand. When Hillstowe was sold in 2001, the opportunity arose for Hamish to build his own winery. Joined by Kate later that year, the path forward was set. Hamish occupies several roles at Deviation Road, including overseeing the business operations, chief tractor driver (and fixer), disgorger, handy man and blending partner.
Kate was 19 when she realised that becoming a winemaker was actually a ticket to her other passion, all things French. This is how she ended up in France, studying at the Lycée Viticole d'Avize in Champagne. Nearly three years later, she returned home to her family winery Stone Bridge in WA, where she worked as Winemaker for four years before joining Hamish in 2001. Was it fate or destiny that Hamish was a vigneron in the Adelaide Hills? Judging by the results, the region has proved an ideal setting for Kate to hone her sparkling style and produce the artisanal and refined wines Deviation Road have become known for.
With a fiery passion to create premium bottle fermented and aged Australian sparkling wines together with textural, aromatic wines that can genuinely cellar, their signature style is restrained, elegant and balanced. All of their wines are hand-crafted using traditional wine making techniques and are vegan friendly.
Deviation Road's winery and cellar door are a short drive from Stirling. The Deviation Road experience combines a spectacular garden setting surrounded by vineyard and heritage listed bushland together with a sophisticated wine and all-day grazing food menu that heroes local seasonal product.
Seasonal wine flights are available, and by appointment only they also have a Disgorging Experience that includes a hosted winery tour and disgorging, where you get to create a custom dosage of a bottle of Altair, which you can take home, followed by a Noble Cuvee wine flight featuring their four current release sparkling wines. I was fortunate to be there at a time that they were disgorging, which they do onsite. I also had the pleasure of meeting Kate, she generously took the time to sit with me to talk through the wines.
Deviation Road 2017 Loftia Vintage Brut
Chardonnay 55%, Pinot Noir 45%
The aim when blending Loftia is to create a sparkling that will gain complexity with age, as well as show the perfect balance between the line and precision from the chardonnay and the power from the pinot.
The wine is tiraged (bottled) by hand and stored for second fermentation. After a minimum of three years, the first batch is riddled and hand disgorged on site at their Longwood winery. Small batches are disgorged at a time to allow the remaining bottles to continue ageing on lees as long as possible.
Loftia is famously crisp and zesty, the perfect aperitif style sparkling wine. Aromas of lemon zest on the nose precede the creamy mousse and citrus finish. Flavours of crisp apple, fresh citrus zest, oyster shell minerality with a citrus finish on the palate. Enjoy withBBQ scallops.
Deviation Road Altair MV Brut Rose
Pinot Noir, Chardonnay
Kate explained that the Pinot Noir gives the Altair power and riper red fruit aromas and Chardonnay produces citrus lift and gives the wine finesse. This is a Multi Vintage (aka Non Vintage) in the assemblage (blended) method, which means that some still red wine is added to the blend to create the rose colour. The benefit of the MV wine is that reserve wines from previous years is added to enhance depth and complexity.
Sweet strawberry, cherry and spice aromas follow through to the palate, experienced as delicate mid palate fruit, with crisp finish and wonderful length.
95 Points – 2021 Halliday Wine Companion
94 Points – 2020 Tyson Stelzer's Australian Sparkling Wine report
Top Gold (95 Points), Adelaide Hills Wine Show 2018
Sparkling Rosè of the Year, Tyson Stelzer 2017
Southcote Blanc de Noirs 2017
The Southcote is a vintage wine created to showcase the best parcel of Pinot, and it is only produced in exceptional years, from 100% Pinot Noir. I tasted the 2017, the 2018 has since been released. The fruit is chilled at harvest and immediately whole bunch pressed into stainless steel tanks. Minimal skin contact, produces this lovely Blanc de Noir (White from Black).
Fresh red apple and raspberry aromas with toasted biscuit notes adding complexity. The palate has a lovely creamy mousse finished with crisp citrus acidity, balanced by a low dosage. Quince, red apple, raspberries, rhubarb crumble and sweet spice.
Beltana Blanc de Blancs 2013
Kate explained to me that precision freshness is the Deviation Road DNA. It is certainly highlighted in the Beltana, their flagship prestige cuvee. I tasted the 2013, the 2014 is now also released and has been awarded the Halliday Wine Companion Best Sparkling Award 2022. The Beltana is produced using 100% Chardonnay grapes selected from the cool south-facing slopes high in the Adelaide Hills. A persistent fine bead, creamy mousse, clean minerality and is delicate on the palate. The nose had lovely nut and toasty hints, flavours of green apple, baked lemon curd tart, and a lovely crisp mouth-watering finish. The Beltana is aged for minimum 5 years, as is disgorged on demand, which means that some will be even later than that. The one I tasted had been aged for 7 years. Accolades include 96 Points – Huon Hooke and 96 Points – Tyson Stelzer.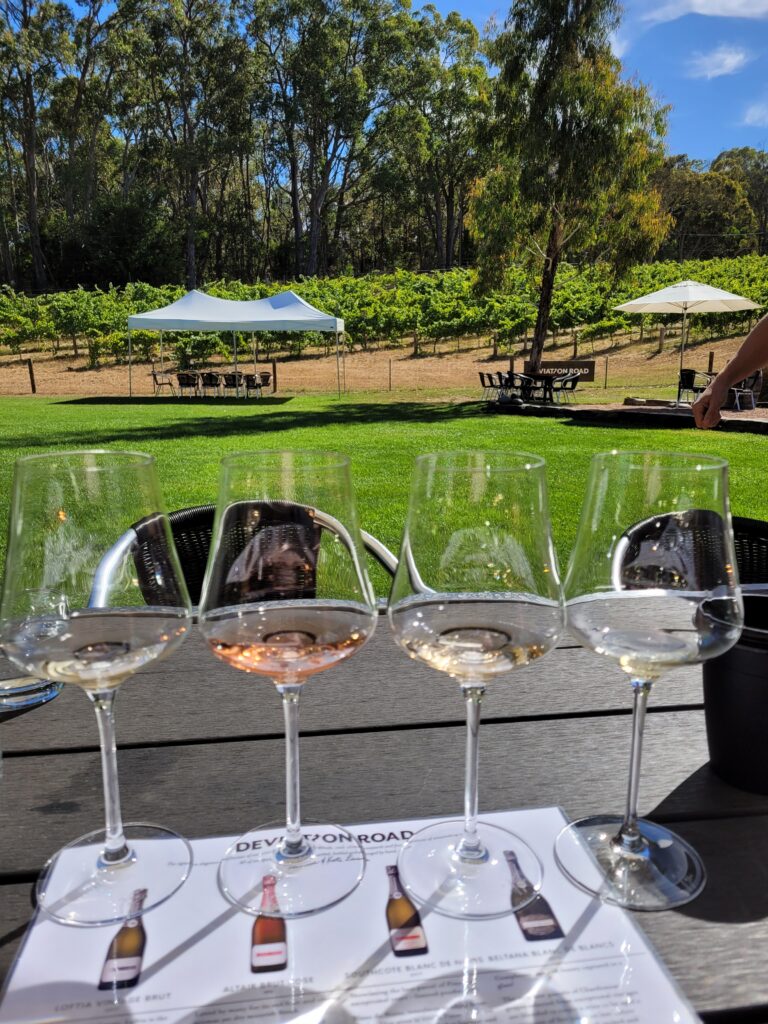 DAOSA at Tapanappa
DAOSA stands for Dedicated Artisans of South Australia and is owned and managed by husband-and-wife team Xavier Bizot (great nephew of Lily Bollinger) and Lucy Croser (daughter of Brian Croser) Brian started Croser sparkling and was one of the first to plant vineyards in what is now known as the Adelaide Hills wine region. The Cellar Door is located at the Tapanappa Winery, where some of the original vineyards where Croser was grown are retained. DAOSA is the sparkling wine brand, they have recently added a tasting experience at Cellar Door featuring the DAOSA sparkling wine range, as well as a selection of their TERRE à TERRE still wines.
I met with Xavier at the Cellar Door, and he explained to me that they grow all their fruit from their vineyards in the Piccadilly Valley. Obviously passionate about the area as a sparkling region, he explained to me that this location is the highest, coolest, wettest part of the Adelaide Hills, which makes it the perfect climate for quality sparkling wine production. Although we know the term 'terroir' as a feature of the soil, it also includes climate and growing conditions. Xavier mentioned there are around five different soils contributing to the impact of the terroir on the fruit. These ancient soils include clay, sandstone and shale, reflecting 1.5 billion years of evolution in the wine.
Advocates of the Australian Sparkling Wine industry, DAOSA have created the labelling term 'Method Classic' – which they have trademarked to describe the traditional sparkling wine process ('traditional method' or 'méthode traditionelle), which can be used outside the Champagne region. Since 2010, due to trade agreements, in Australia (and most of the world) we cannot call a sparkling wine 'Champagne', or use the words, 'méthode champenoise' or 'champagne method' to promote the method used.
The sparkling wine pedigree of this family-owned sparkling brand is producing some delectable sparkling wines. Champagne connoisseurs at our Bubbles Festivals have told me that it is the only Australian sparkling wine that they like! I tasted these two:
DAOSA Natural Rèserve 3rd Release
Pinot Noir 83%, Chardonnay 17%
The fruit was whole bunch pressed, retaining only the first press, producing very fresh acidity, clean juice and good primary fruit characters prior to fermentation. Fermented cool in stainless steel with malolactic fermentation, before being blended (assemblage) with some 2016 and 2017 Réserve Chardonnay and Pinot Noir, aged in old barrels without sulphur. The wine was then 'tiraged' in February 2019 for secondary fermentation in bottle. Aged for 18 months. Dosage 7g/L. It is rated 96 points, James Halliday. The 4th release of the natural reserve has since been released, and you can see my virtual tasting on The Bubbles Review Facebook page.
DAOSA Blanc de Blancs 2016
Chardonnay 100%
This single vineyard Blanc de Blancs is from the family Chardonnay vineyard on the higher slopes of the Piccadilly Valley. Méthode Traditionnelle (Method ClassicTM). Fruit was hand harvested and whole bunch pressed, retaining only a small amount of the first press, which presents a very bright acidity, clean juice and good primary fruit characters. The juice was cold settled in tank for one week before being run into old barrels for primary fermentation. Once primary fermentation was completed, the barrels were topped and the wine stayed in barrel, with some lees stirring for a further 10 months where it went through malolactic fermentation. The wine was then 'tiraged' for the secondary fermentation in bottle. Aged for more than 42 months in bottle before being disgorged. Dosage 6g/L. This wine has spent more than four years on lees in total.
DAOSA Blanc de Blancs – the 2016 is a new release. I tasted the 2015 on my visit, which is now sold out. The 2015 won a Platinum medal at the Decanter World Wine Awards (awarded to just 178 wines out of 16,500+), was the top-rated sparkling wine in Gourmet Traveller Wine and was featured in James Halliday's 'Best of the Best' Sparkling Wines. I tasted the 2016 when we had it on the list at The Bubbles Festivals around the country, and it was extremely well received. The 2017 has since been released, and you can see my virtual tasting on The Bubbles Review Facebook page.
Greenhill Wines
Owned and operated by Paul and Penny Henschke the Cellar Door and Café occupy a carefully restored and extended 1880s settler's cottage in Summertown. Situated on a ridge with a large deck and grassed area with a stunning panoramic view of the Piccadilly Valley and vineyards, eucalypt forested Mt Bonython and distant Mt George range.
Paul describes Greenhill as a 'nano-scale' producer, with very small production. He manages the vineyard, is winemaker for their wine range, and manages the Cellar Door. Penny is the sole cook for the café. Both former Academics, they tell me that they love sharing what they create at Greenhills with visitors to the Cellar Door.
Paul is a fifth generation of the Eden Valley Henschke wine family, and after a career as an internationally recognised wine research microbiologist and educationalist (Australian Wine Research Institute and The University of Adelaide), he now focuses on grape growing and winemaking. He has an amazing knowledge of the wine fermentation process and the critical role that wine yeasts and bacteria play, which he says are the real microscopic winemakers. His knowledge is being put to great practical use to emphasize the qualities of their grapes, with minimal technological intervention. They purchased the vineyard in 2009 and produced their first sparkling wine in 2011.
I love new discoveries and Greenhill Wines are producing some interesting varieties. Two of the most common grapes used in Champagne are Pinot Noir and Meunier which are red grapes. Using the gentle pressing method and only taking the first press, allows the winemaker to produce a white wine from red grapes, known as a Blanc de Noirs – white from blacks. All of the Greenhill sparklings are red grape dominant, but not sparkling reds. I love the delicacy of experiencing the Pinot flavours in a good sparkling wine.
Pinot Meunier or Meunier, is a red grape, that is usually blended with Pinot Noir and Chardonnay in a traditional blend. Meunier is known for its ability to balance out and bring harmony to the other two. I have tasted 100% Meuniers in Champagne, there is a growing trend amongst grower champagnes to create a 100% Pinot Meunier sparkling. It is very unusual in Australia, I have only tasted one other, so the Greenhill's, Blanc de Noir was delightful to experience. All of their sparklings are traditional method 'methode traditionelle'.
2017 Estate Sparkling Pinot Meunier Blanc de Noir
Fine bead and textured palate, lovely mid palate fresh fruit with a crisp finish and long length.
Greenhill's 'unique' 100% Pinot Meunier from the Piccadilly Valley, Paul tells me that 2017 was a very cool 2017. This wine spent 2.5 years on lees.
I also taste the late disgorged Pinot Noir Rosé, which has spent 6 years on lees. This is from their first sparkling year – the cold 2011 vintage.
2011 Estate Sparkling Pinot Noir Rosé Brut – 6 Years Late Disgorged
High altitude, cool climate, Piccadilly Valley (Summertown) single vineyard, Estate grown Pinot Noir (100%). Disgorged after 6 years on yeast lees in bottle, October 2019.
Very pale pink, with fine and persistent bead. The aromas are complex, lemon, citrus, honey, green apple, strawberry and brioche. On the palate it is lively, luscious, rich creamy texture, and lingering fresh crisp dry finish.
2016 Estate Sparkling Pinot Noir Brut Rosé
High altitude, cool climate, Piccadilly Valley (Summertown), single vineyard, Estate grown Pinot Noir (95%) and Pinot Meunier (2.5%), and includes Chardonnay (5%). Third release: disgorged after 3 years maturation on yeast lees in bottle, March 2020. This sparkling Pinot Rosé was tiraged with a novel hybrid yeast bred by a colleague of Paul's.
A delicate pink colour with fine and persistent bead. The aromas are complex strawberry with hints of raspberry, green apple, citrus and subtle brioche. The palate is lively and luscious, creamy, and lingering dry (brut), crisp fresh fruity finish.
Wine flights are available throughout the day, and Paul is often available to present those, which can be accompanied by food served from the café, which showcases local fruit and vegetables, pasta, and Penny's bread baked daily. The menu features the Greenhill Café tasting plate, which typically features three dishes freshly prepared and designed to complement each other with ciabatta. Small plates, including cheese and salami platters, are also available.
The Tank at the Uraidla Hotel
The Uraidla Hotel has a quirky character with retro styling. They have a microbrewery, great food and an amazing wine list. The creation of the tank tasting room for a unique wine tasting experience was done by repurposing a disused water tank at the hotel. Perfect, very cool wine storage conditions, so crochet blankets (like your nanna may have made) are thoughtfully provided to wrap around you whilst you taste. The tank holds 4,000 bottles that surround you as you taste on the circular tasting bar in the centre of the room. They showcase wines from the region, particularly Piccadilly Valley, and feature some lovely sparklings that you may not have discovered yet, as well as some great grower champagnes. I tasted these local sparklings:
2018 Piccadilly Circus Blanc de Blancs – Methode Traditionelle
A crisp, clean, cool climate Blanc de Blancs with gentle flavours of citrus and cashew. Great persistence of flavour and balance. Hand-picked, whole bunch pressed then matured in oak before second fermentation in the bottle results in a great example of Piccadilly Valley Sparkling.
Norton Summit Sparkling Chardonnay/Pinot Noir 2010
Produced using organic practices, natural (wild) fermentation, are hand-picked and pruned. Released after 1 year in new and seasoned oak plus 2-3 years more in bottle for aged characters.
70% Chardonnay, 30% Pinot Noir. Sauvage dosage. Fermented in bottle. Biologique. 10 years on lees. Late disgorged.
Nice, lifted nose and lovely depth and length of complex flavours. Very classy and beautifully elegant wine.
I also tasted one champagne:
Champagne Larmandier Bernadier Latitude Extra-Brut
100% Chardonnay 40%Reserve wines 4g/l Dosage
This family owned, grower champagne from Vertus is known for creating wines to express specific terroir from their estate. This is made exclusively from Chardonnay grapes which all come from the same "latitude": the south of Vertus. A generous terroir and grapes picked fully ripe. This non-vintage cuvée contains 40% of wines coming from the estate's perpetual reserve started in 2004. Lovely mineral quality, harmonious aperitif style, fully round character, delightful on the palate.
I visited the Tank on my own and returned a few days later with my group of friends, it's a great stop to include on a sparkling tasting day in the region.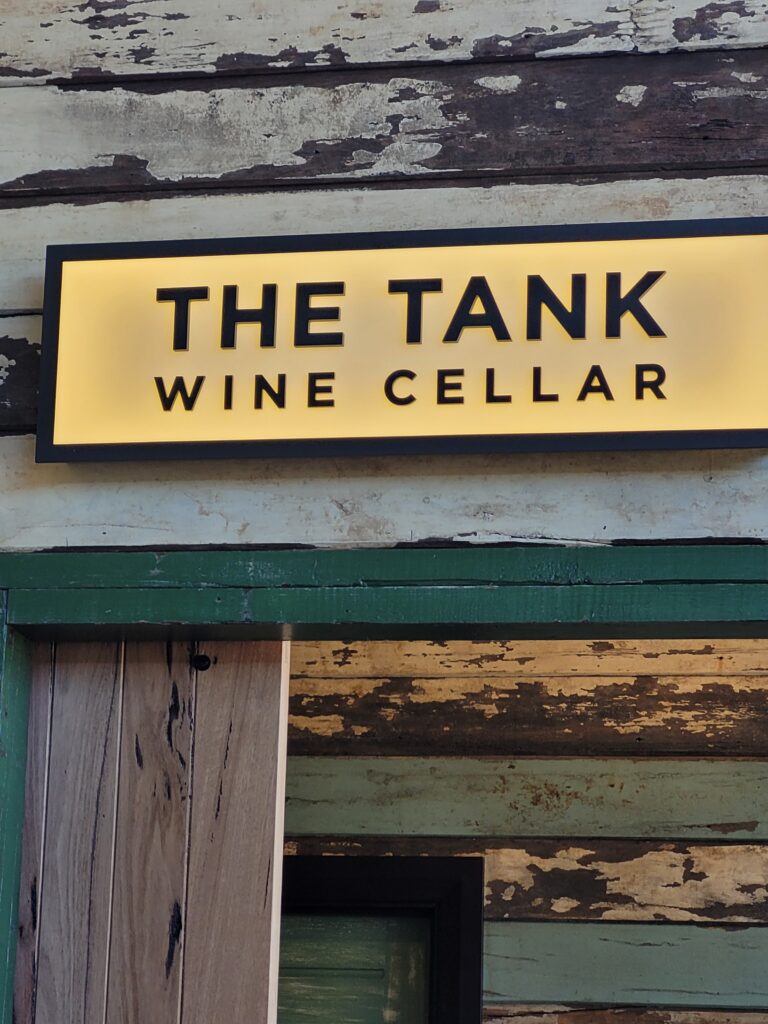 Honey Moon Vineyard
Honey Moon Vineyard is owned and operated by Jane Bromley and Hylton McLean. The vineyard is situated on a cool but sunny site, on the high ridges of Echunga. Hylton and Jane make the wine that they want to drink. Hylton a wine educator, and experienced sparkling maker, having spent more than 10 years as the sparkling maker at Orlando. Jane is a winner of the Vin de Champagne award. They have a great passion and credentials for creating some special sparkling wines. Their beautiful vineyard is located at their home, and the name Honey Moon comes from them noticing the full moon sitting over the vineyard and thinking it looked like a big drop of honey. Their sparklings are all hand-picked, first press, taking the cuvee only for traditional method sparklings.
I tasted their Rosé Brut, which is mainly Pinot Noir with a little bit of Chardonnay – the same reserve from the Piccadilly Valley used in the Blanc de Blancs. The colour is from the saignee method, picking up a bit of pigment on press. It is mainly the 2015 vintage having spent 52 months on lees. It had lovely mid-palate fruit, wild raspberry, with some spicy notes, and fragrant violets. It retails for $50 but their private customer list gets special pricing. 2017 Blanc de Blancs – 100% Chardonnay from two different vineyards, majority from the 2017 harvest in Charleston, 14% from reserves from the Piccadilly Valley 2015 Vintage. Their reserves are stored in Magnum (like Bollinger), which is an expensive way to hold reserves, but provides great complexity in the wine. 32 months on lees. Delightful, delicate balance in this wine. Lovely nutty, cashew flavours on the palate, which are cut through perfectly with citrus fresh lime acidity. The ageing mentioned on these wines are the minimum, and Honey Moon retain stock still ageing on lees and disgorge on demand. They hand label and write the customer's name on the bottle as well as the disgorgement date.
Honey Moon Vineyard Rosé Brut 2015
85% Pinot Noir and 15% Adelaide Hills Chardonnay
This is a Méthode Traditionnelle sparkling wine, based predominantly on Pinot Noir from the Honey
Tirage-bottled in January 2016, thus 45 months on lees (at the time of writing). Disgorged by hand, on demand means that the wine remains in contact with the yeast lees, under cool cellaring conditions, for as long as possible – with all the benefits this brings. The year and month of disgorgement is written on each label enabling one to calculate the time on lees. Dosage – 9.0 g/L
Appearance is delicate rose pink, with a fine pin-point bead. The aroma is subtle strawberry and quince aromas mingle with hints of citrus and sea breeze/oyster shell notes. A vibrantly fresh palate with notes of new season strawberry, cherry and delicate citrus. Subtle secondary nutty and bready notes, arising from the time on lees, are now becoming part of the wine's complexity. The creamy texture and soft mousse builds pleasantly on the palate, integrating flavour with refreshing acidity to give a lingering and crisp finish. Pair with light dishes such as salads, seafood (salmon, shellfish, small ocean fish such as garfish and tommy ruffs, and chargrilled squid), sushi and white meats. Also delicious with soft cheeses.
Honey Moon Adelaide Hills Blanc de Blancs Brut 2017
Chardonnay 100%
90% Chardonnay from the Anderson (Almond Cart) vineyard in Charleston, plus 10% Chardonnay reserve wine from Piccadilly, Chapel Hill Vineyard, ex magnums (on light lees).
Total production 1,204 bottles, plus six magnums
Appearance is pale light yellow with vibrant green hue and fine bead. Aroma is subtle lemon lime citrus aromas mingle with green apples, lively and fresh. Palate is a fresh aperitif style. Vibrant with notes of lemons and granny smith apples. A light creamy texture and refreshing mousse builds pleasantly on the palate, integrating flavour and acid to give a lingering and dry finish. Pair with light dishes such as entrées, salads, seafood (great with fresh oysters!) and white meats. Dosage 7.5 g/L. Disgorgement in Oct /Nov 2020 = 32 months on lees.
Private tastings can be arranged at their home by appointment. You can purchase online or join their private customer list. I discovered them on some of the best sparkling lists in Adelaide, and they were also a favourite at The Bubbles Festival Adelaide.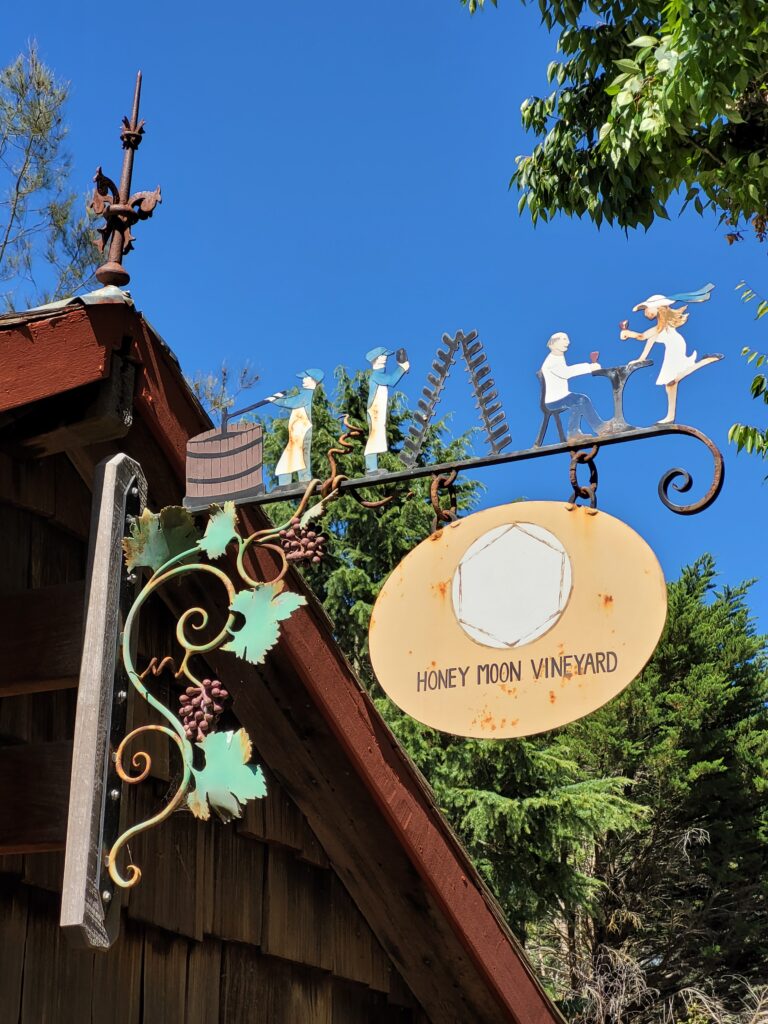 Mordrelle
Visits to this small family-owned Cellar Door are by appointment. I visited Mordrelle twice during my stay, once on my own to taste the sparklings before returning a few days later with a group of friends, when we tasted sparklings and some of their still wines. Co-owner Martin Moran is not only a great winemaker, he is also a great host who is more than happy to tailor visits to what is needed. Tastings are usually accompanied by olives, and cheese platters are available on request. If you want to make this your lunch stop, Martin will prepare an Argentinian BBQ, sharing the delights of cuisine from his homeland. If you ask him, Martin will play a few songs on his guitar too!
Martin holds an engineering degree in Agriculture (the second most difficult after Medicine) specialising in viticulture and oenology, making reds, whites, and sparkling wines. His winemaking travels brought him to the Adelaide Hills, where he fell in love with the area, and his now wife Michelle. Establishing Mordrelle together, with Michelle's parents, the wine labels features artwork by Martin's father, Jose Luis Moran, who passed away in 2010. "Our label is our opportunity to share with you the wonderful artistic skills of my father Jose Luis Moran and dedicating our wine to his memory," says Martin. If you're lucky, there might still be stocks of the 'Wedding Wine', produced for Martin and Michelle's wedding. At the time of their wedding, it was a fresh young sparkling wine, served to their wedding guests. Today, with about 10 years of ageing on it, it is a more complex wine with a lovely nose. A Blanc de Blancs, 100% Chardonnay, it is creamy on the mid palate, hints of umami saltiness, with crisp dry finish, as you would expect as a zero dosage.
All of the sparklings are Blanc de Blancs (100% Chardonnay), Brut Nature (zero dosage). Mordrelle was another favourite at The Bubbles Festival Adelaide. The other wines in the sparkling range that we tasted were:
Mordrelle 2011 Blanc de Blancs – this one is a trophy winner. Produced from a cold and wet vintage, very crisp, fresh green apples, good length and acidity, an earth minerality of ocean and truffles.
Mordrelle 2012 Blanc de Blancs, Adelaide Hills 'Museum Release' Brut-Nature – another wine trophy winner. A low yield vintage, lively fresh fruit, grapefruit with crisp acidity.
Mordrelle 2015 Blanc de Blancs Reserva, Adelaide Hills Brut-Nature – fresh on the palate, crisp, light, aperitif style. Winner of 2021 Adelaide Hills Wine Show Best Sparkling and Best Single Vineyard Wine.
Mordrelle Apple Cider, 'Methode Traditionelle' 2014 – I'm not a cider lover, but I did taste the Pink Lady Apple cider, which was very refreshing, made in the traditional method that adds some complexity. Cider lovers will appreciate this one.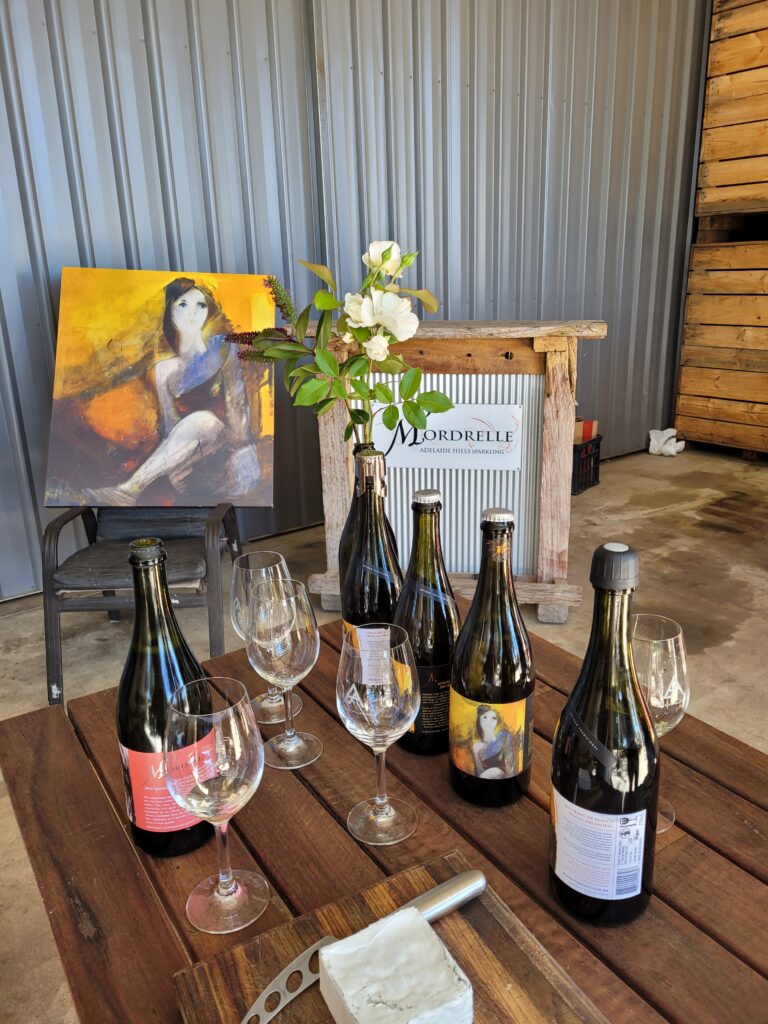 Wicks Estate Wines
We had the family-owned Wicks sparklings at The Bubbles Festival Adelaide and they were very popular. A Cellar Door is currently in development, so keep an eye on this one for future visits. For now, you can enjoy the view of the vineyard on your travels through the region. You can also see the virtual tasting for Wicks Estate on The Bubbles Review Facebook page.
Here are their tasting notes.
Wicks Estate – Pamela Sparkling Adelaide Hills 2015
Chardonnay 70%, Pinot Noir 30%
Our 2015 Pamela represents our finest expression of traditional method sparkling, a wine only produced in the finest vintages. Parcels of Chardonnay and Pinot Noir are hand-picked from our estate vineyard at Woodside with any imperfect fruit rejected to achieve the highest quality outcome. Traditional methods of whole bunch pressing, bottle fermentation and a minimum of four years on tirage help ensure a level of prestige and finesse. 100% Adelaide Hills, South Australia Cool Climate vineyards, individual parcel selection.
Colour is bright pale straw. Aroma is lifted buttery and toasty French oak, with a subtle hint of fresh cut apple and melon. Flavour is notes of brioche and white peach with hints of fresh cut apple and a fresh clean finish on the palate. 5.9 g/L Residual Sugar. Pair with oysters or a selection of gourmet cheese and dried fruits. Cellar for 10+ years.
Wicks Estate – Chardonnay Pinot Noir Vintage Adelaide Hills 2020
Chardonnay, Pinot Noir
Fashioned with vibrant fruit and sparkling purity, this early release style vintage sparkling is based upon the most famous sparkling wine varieties of Chardonnay and Pinot Noir. Blended from two clones of Chardonnay and two clones of Pinot Noir, these carefully selected parcels from the Wicks Estate vineyards were meticulously nurtured through the winemaking process in order to retain their pristine fruit flavours and delicate aromatic nuances. A layering of complexity achieved through the secondary fermentation provides and delightful distraction from the crisp apple chardonnay derived characters and the gentile strawberry notes from the Pinot Noir all tied together by the fine, refreshing natural acidity. Colour is pale straw. Aroma is lifted florals. Flavour is fresh green apple with white stone fruit. 5.0 g/L Residual Sugar. Pair with canapes and entrées. Cellar for 3–5 years.
Petaluma
Founded by Brian Croser with the original vineyard in the Piccadilly Valley in the late 1980s, he was the first to produce Sparkling Wine from the Adelaide Hills, and Croser is the sparkling label of Petaluma. Now owned by the Accolade group, the Petaluma state-of-the-art winery has been in this new location since 2015 – situated on their estate vineyards in the township of Woodside, just a 40-minute drive from Adelaide CBD. The Cellar Door has expansive views of the Adelaide Hills, and the converted farmstead has a modern and elegant interior, and an outdoor deck overlooks the vineyard. They offer a selection of wine flights, including a Croser sparkling flight, Chardonnay flight or a Yellow Label flight, each served with a tasting of local produce.
I met with Paul Easton, one of the sparkling winemakers, who sat with me to take me through the tasting of their sparkling range. The Croser Non-Vintage made my list of 'go to' Aussie Sparklings a few years ago. It is a good consistent traditional method bubbly, and great value for money.
Croser NV Adelaide Hills
It is usually around 65% Pinot Noir and 35% Chardonnay, from selected sites in the Piccadilly Valley and other parts of the Adelaide Hills. A blend of the current vintage of Croser with reserve wine from several older vintages. Each vintage adding distinctive qualities to the final blend. Croser Non Vintage stays true to the 'aperitif' style, fresh bright fruit, hints of grapefruit, with balanced acidity. Methode traditionelle, the NV spends 12–18 months on lees.
Croser Non-Vintage Rose NV
A blend of 100% Pinot Noir fruit sourced from selected cool climate vineyards across the Adelaide Hills and combined with several back vintage reserve wines of Pinot Noir delivers a sophisticated Methode traditionelle. It is whole bunch pressed, and after settling, the juice is fermented in a combination of 80% stainless steel, with 20% fermented in old oak barriques for added complexity. The colour is blush salmon pink. Lovely mid palate fruit of red berries. Mineral saltiness on the finish.
2015 Croser Piccadilly Valley Vintage Sparkling
This is a blend of 63% Pinot Nor and 37% Chardonnay. Complex, elegant and creamy on the palate.
The fruit is hand-picked from the Piccadilly Valley, and the Petaluma Yellow Reserve Chardonnay also comes from the Piccadilly Valley. It is chilled overnight, then whole bunch pressed, then fermented, blended, filtered, tiraged and stored on lees for a minimum of 3 years. Disgorged at their new state of the art winery.
On the nose and palate, there was notes of stone fruit, brioche and strawberry. Fine crisp finish, nuttiness on back palate, with hints of sourdough. A little bit of malolactic fermentation is used, which softens the acidity, leaving a very fine crisp finish.
The next vintage is the 2017, which has been released since my visit.
Croser 2006 Late Disgorged Piccadilly Valley
Slightly warmer growing season than the long-term average. Smaller yields provided exceptional fruit concentration and natural acidity. The near-perfect conditions at harvest saw traditional picking dates for both varieties in mid to late March.
The nose had the complexity you expect from a wine aged on lees for 12 years. Disgorged in late 2019. This is zero dosage. Traditional champagne yeast is used for fermentation. On the nose, I noted sticky toffee, with yeast bakery notes of brioche, as well as some strawberry and baked apples. Lovely mid palate experience of fruit, finishing to the front palate with spice. Remarkably fresh with crunchy acidity with a wonderfully fine bead and creamy mousse. Honey, cashew and apple pie complement the layers of complexity on the palate.
Bird in Hand
Owned by the Nugent family, the venue décor and sculpture collection is a work in progress as the Nugent family continue their love of collecting pieces from around the world. Exciting things are happening here as they prepare for their $30 million development of a new Cellar Door, Restaurant and Art Gallery. Art is a big part of the ethos of this winery, and the grounds feature original works from artists who demonstrate a philosophical connection to the spirit of the winery. Sculptures in the gardens, inspiring interiors, paintings that speak to our time and nod to the classics.
Bird in Hand Flight Club members get private access to dine at The Gallery Restaurant, where a seasonal curation of artworks by Hugo Michell Gallery provides a visual feast while overlooking the vineyard. Beyond the restaurant, the love of art continues.
On my visit, I met the Sparkling Winemaker, Sara Burnvill. Bird in Hand are probably most well known for their NV sparkling which is a rosé. This is a charmat method, usually 100% Pinot Noir, although 2020 did have some Chardonnay included as harvest volume was challenged by the bushfires in the region. This is their volume wine, with 100 thousand cases produced, and is a big seller in Australia and the UK.
Aside from their flagship sparkling, Bird in Hand also make some lovely Methode Traditionelle sparklings, which are named after family members. Here is what I tasted during my visit.
2018 O (OWN) Sparkling
OWN is named after the owner's son. It is 70% Pinot Noir and 30% Chardonnay, very crisp, light on palate. Aromas of red apple, citrus blossom, honey nougat and lovely mid palate fruit, fleshy white peach and lemon zest, subtle oak spice with crisp dry finish and mineral saltiness. 26 months on lees, 6gms dosage.
Nest Egg Joy 2015
Joy is named after Andrew's mum. It is a 2015 vintage traditional method, Blanc de Noirs of 100% Pinot Noir. Notes of red apple combined with pink grapefruit, a hint of musk and subtle shortbread aromatics. A delicious brut style sparkling with a richness and creaminess on the palate from the natural fruit weight and time on lees in bottle. A tight acid line and fine lacy bead drive the wine through the palate adding length and precision. Nest Egg Joy is aged for 30 months on its lees before release to add further texture and complexity resulting in subtle biscuit, brioche and shortbread characters.
Lalla Victoria 2007
This is a late disgorged version of Joy. It has spent 8 years ageing on lees. It is the 2007 vintage, disgorged in 2015. It offers further complexity from extended ageing. The nose offers spicy notes from the Pinot Noir, with a richness and creaminess on the palate, lovely mid palate fruit with spicy notes on the finish and extended length.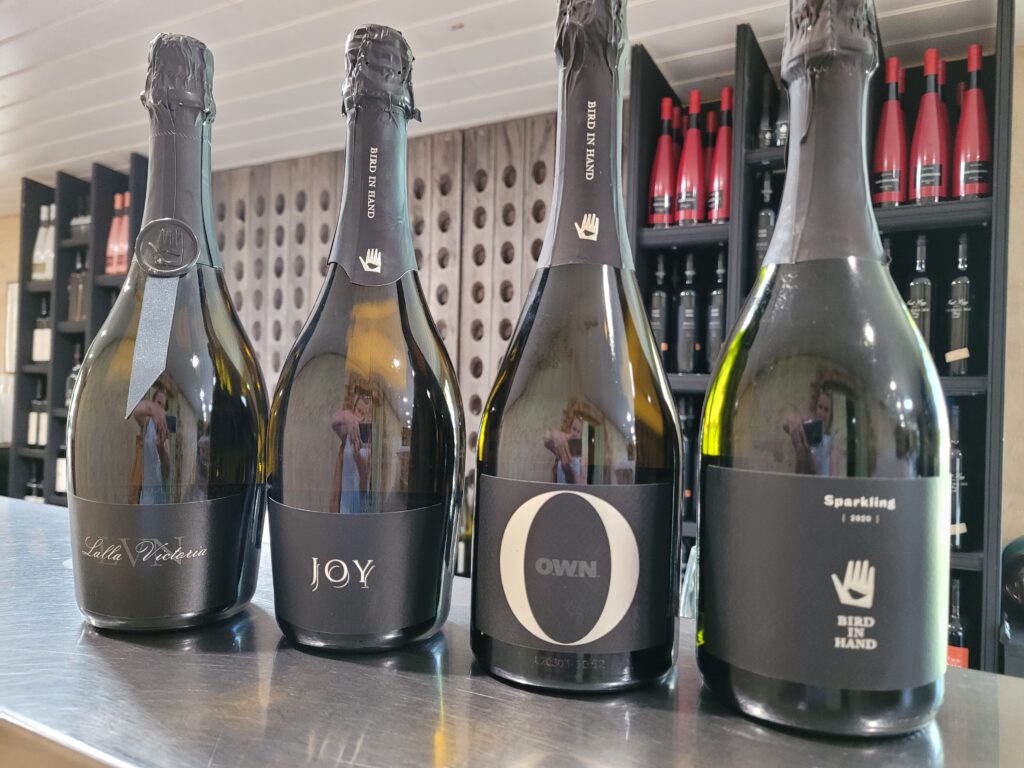 Pike & Joyce
Pike & Joyce Wines was established in 1998 as the coming together of the Pike family from Pikes Wines in the Clare Valley, and the Joyce family, fifth generation horticulturists from the Adelaide Hills – a joint venture of two families who share a love of the region, a passion for viticulture, and a desire to produce only the finest wine. The vineyard is all hand pruned and handpicked, with the fruit being chilled overnight in the Joyce cool rooms, before being transported to Pike's Clare Valley winery for vinification.
This is a 'wow' factor Cellar Door! The restaurant and tasting room is housed in a sandstone structure with glass (a lot of it retractable), giving 180-degree views over the single estate vineyard and the spectacular Onkaparinga Valley. Contemporary Australian themed artwork adorns the walls as you enter, and the philosophy of the restaurant menu is all about embracing seasonal and local produce.
I tasted the NV 'Methode Cuve' Pinot Noir Rosé
A bright, pale salmon pink blush. Tank method (aka Cuve or Charmat). This is fresh and fruity, a perfect light on the palate summer drinking wine. Aromas of tropical fruit, cranberry and strawberry.
Since my visit, they have also released the 2016 MT Sparkling Chardonnay Pinot Noir. The fifth release of their 'Methode Traditionelle'. It has spent 4.5 years on lees resulting in complexity that you would expect in a quality sparkling wine. This small batched wine is available exclusively from the Cellar Door.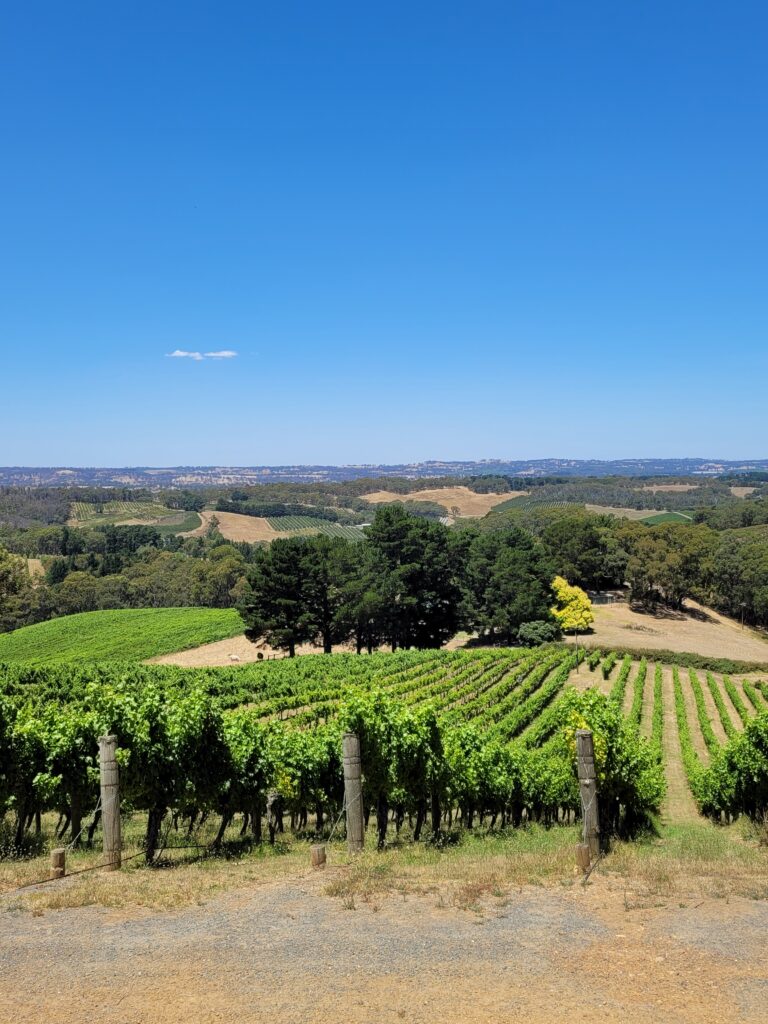 Mt Lofty Ranges Vineyard
Mt Lofty Ranges Vineyard (MLRV) is a family-owned, five star rated boutique winery nestled high in the Adelaide Hills at Lenswood 20km due east of Adelaide at a height of 550m. This picturesque sloping vineyard, where all vines are hand pruned and grapes are hand-picked, produces fruit of consistently high quality.
I met the owners Sharon Pearson and Garry Sweeney at the restaurant and cellar door, which has stunning views of the vineyard and surrounding ranges. Using sustainable reclaimed timbers and repurposed materials the venue also features a glass dining room, three tiered decks and undercover outdoor dining. Provenance of wine and food is at the forefront of MLRV's philosophy, with a strong emphasis on ethical local farming and menus defined by seasonal and locally grown produce.
Established in 1992, the vineyard has 19,000 planted vines consisting of Sauvignon Blanc, Riesling, Chardonnay and Pinot Noir. They make traditional method sparklings, a blend of Chardonnay and Pinot Noir. I sat down for a tasting with Garry and then had lunch on the deck enjoying the views of the vineyard.
Méthode Traditionelle Pinot Noir Chardonnay 2018
Garry told me that this was their seventh Méthode Traditionelle. A blend of Pinot Noir 55% and Chardonnay 45%. The wine has spent some time in oak, before tirage with 26 months on lees. Lovely on the nose, a leanness in the fruit characteristics, the creamy mousse, sits very light on the palate, crisp aperitif style, with a mineral saltiness on the finish.
Méthode Traditionelle – Late Disgorged – Pinot Noir Chardonnay 2013
The late disgorged is a similar blend of 60% Pinot Noir, and 40% Chardonnay, it has spent extra time on lees, a total of almost 7 years.
Lovely nose with aromas of brioche, toffee, autolysis bringing biscuity, sourdough notes. Rich on the palate, but surprisingly light, it almost levitates on the palate, lovely and delicate.
The restaurant is open daily for lunch and set menu options apply. Friday Night Sunset Sessions are held on the first Friday of every month. Sip some bubbles (or one of their still wines) by the open fire, and enjoy live music and dine on a two or three course a la carte menu or a five course tasting menu.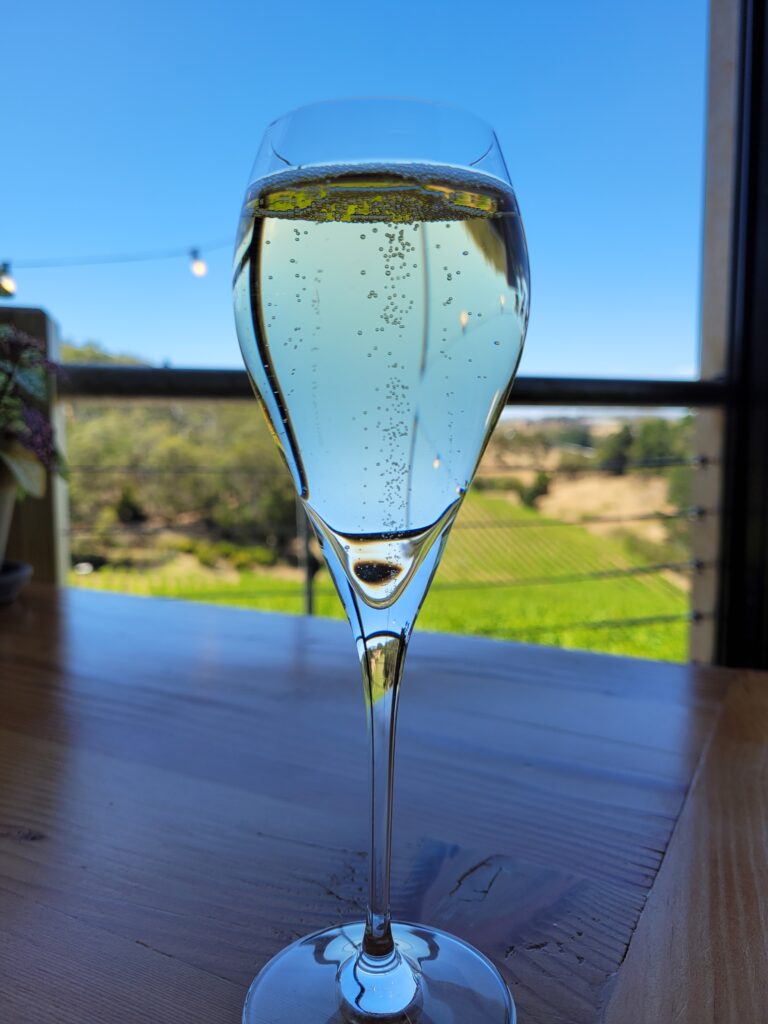 Golding Wines
Golding Wines is situated on the outskirts of Lobethal, within the Lenswood appellation. A family-owned vineyard, their philosophy is that the best wines come from great vineyards and taste even better when shared in beautiful surrounds.
The Goldings have created a beautiful space to enjoy their wines. The Cellar Door, housed in what was a family-built sandstone barn, is surrounded by ancient gums, a lush garden with landscaped terraces, encased by their vineyard.
The Tasting Room offers wine flights, accompanied by canapés, and cheese platters are also available.
They have two sparklings on tasting – one from the Market Series and one from their Portrait Series.
Market Series – Last Hurrah Sparkling
The Market series comes from family history of working at the East End Markets, and the celebration of its 'Last Hurrah' when it closed. "It surely was the end of an era when the grand old dame that was the East End Market closed in 1988. Celebrated with no less than a gala ball for over 800 guests. It was a magical event etched into the minds of the old market merchants and known as The Last Hurrah".
55% Pinot Noir, 45% Chardonnay – Charmat method. Aromas of strawberry and crunchy green apple. The palate is bright, fresh, and fabulous, finishing with crisp citrus.
Portrait Series – 2013 Marjorie
Pinot Noir and Chardonnay. Named after Lucy Golding's grandmother who always loved a celebration. "It's fitting that our premium Sparkling wine, made in the traditional method, is dedicated to her. Marjorie is inspired by our love of great Champagne." Extended lees ageing of around 3 years, adds complex toasted nut and yeasty characters to the honeyed poached apple aromas. The palate offers notes of lemon and is crisp with a lingering finish. A persistent fine bead and creamy mousse gives extra lift to these delicious aromas and flavours.
Other tasting experiences include Nido (Italian for nest). A quirky way to enjoy your afternoon, nestled in a giant nest, set in the vineyard with a 5 course grazing menu. There is also a Wine Safari (a tasting amongst the vines). A Pallet Picnic Experience (a picnic with rugs, cushions, table set with linen and cutlery). A tepee for grown-ups completes the setting! Or you could choose Hamper in the Hills for a self-guided picnic experience.
The Ginkgo restaurant also serves seasonal plates and wood-fired dishes. Awarded Gourmet Traveller – Best Cellar Door Tasting Experience – Adelaide Hills 2020.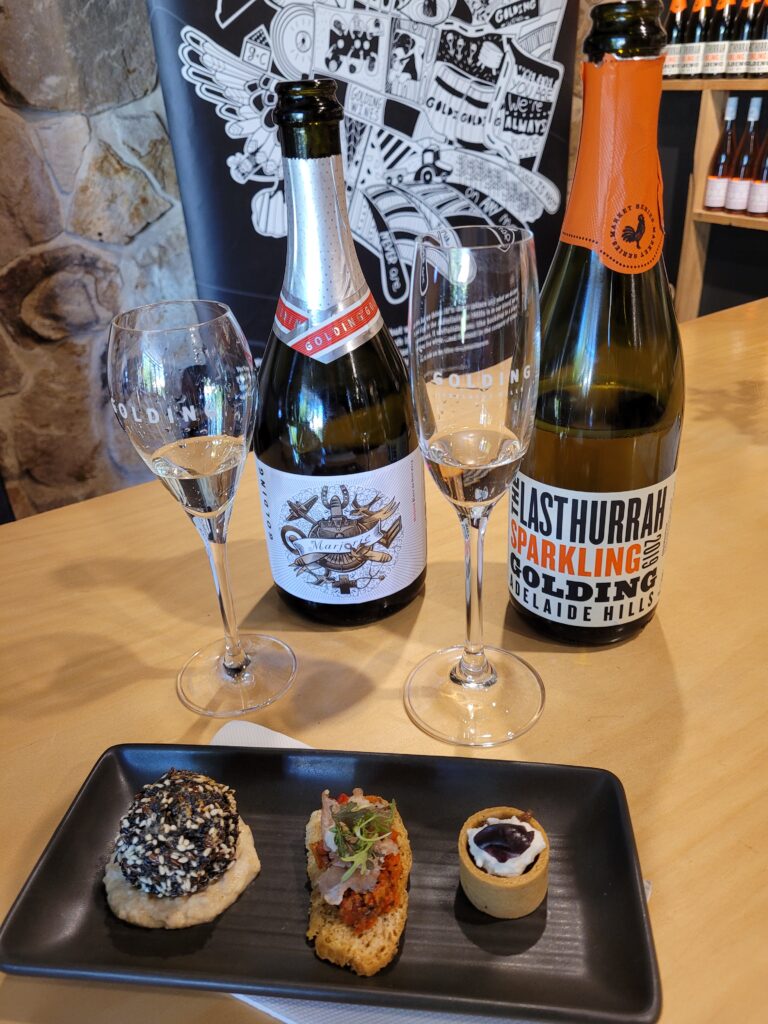 Sidewood
The Sidewood Restaurant and Cellar Door is a stunning mix of materials in the interior, including giant Victorian Ash trusses, local stone flooring, and warm caramel leather banquettes. The venue also features an eclectic collection of Australian art, including works by Olsen, Blackman, Boissevain and Grey-Smith. This flows outside onto an enormous hardwood deck, which offers many different types of casual dining experiences. Set amongst eucalyptus trees and landscaped gardens, there are lounges in front of an open two-way stone fireplace, bar stools along a fifteen-metre bar overlooking petanque and lawn bowls courts, a kid friendly location nature playground and six VIP day beds that are available for hire. Who doesn't love a day bed?!
Sidewood is a family-owned, 5 Red Star Halliday Wine Companion accredited winery, and they are the largest Certified Sustainable Winery in the Adelaide Hills. My friends joined me for this tasting of a great range of sparkling wines, followed my lunch in the dining room. And a quick photo opportunity from one of the day beds!
Here is what we tasted:
NV Sidewood Estate Sparkling Pinot Rose
Grapes are selected from low yielding vines and chilled in the cold room within an hour of picking, before being gently pressed. Free-run juice is then fermented with partial malolactic and extended time on lees prior to secondary ferment and bottling.
This 100% Pinot Noir wine has aromas of fresh strawberry, wild raspberries and dried fig. The palate is round and beautifully balanced. Intense flavours of cherry, white peach and strawberries are matched with a crisp minerality and a touch of brioche. The natural acidity provides excellent structure and finesse with a luscious, generous mouthfeel.
NV Sidewood Estate Sparkling
A blend of 60% Chardonnay and 40% Pinot Noir, the bouquet offers aromas of strawberry, lemon citrus and underlying notes of biscotti. The palate is elegant, displaying intense strawberry, nectarine and cashew characters, which is enhanced by partial malolactic fermentation and extended time on yeast lees providing softness and complexity, while still retaining natural acidity for structure and finesse. A mouth-watering citrus and nougat finish.
2015 Sparkling Chloe Cuvee
With a blend of 60% Chardonnay and 40% Pinot Noir, this wine has wonderful toasty brioche aromas enhanced by green fruits and zesty citrus. The palate has a harmonious balance of orange blossom, biscotti and green apple that complement the salty, driving minerality balanced perfectly with an elegant creamy finish.
2015 Sidewood Cassandra Blanc de Blancs
The wine showcases a complex, creamy mouthfeel marrying notes of buttered brioche, marmalade and dried orange peel on the nose, leading to a saline, oyster-shell minerality and racy acidity on the palate. Fig, ginger and white peach are abundant, the tasting notes describe it as: "Cassandra Blanc de Blancs is a powerful and persistent vinous songstress, with each 'note' in complete operatic, sensory-harmony".
2014 Isabella Rosé Sparkling
This wine of extraordinary sophistication and poise is named after the owners' and vignerons' daughter, Isabella Rose. With a blend of 60% Pinot Noir and 40% Chardonnay, this wine displays aromas of red berries with enticing delicate hints of pressed flowers. Flavours of wild strawberries, black cherries, citrus blossom and toasted brioche delight the palate and are balanced with zesty, crisp acidity and long textural finish.
Sidewood is open for tastings and restaurant bookings every day except Tuesdays and Public Holidays.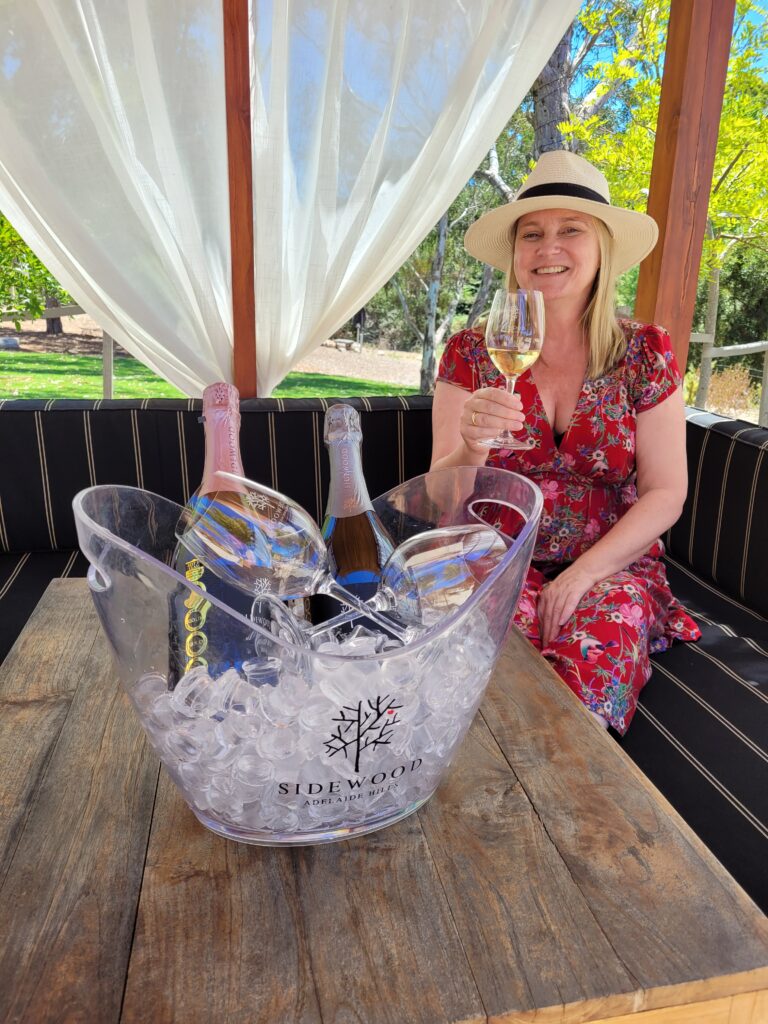 The Lane Vineyard
Sitting 400m high atop the rolling hills adjacent the Onkaparinga Valley, The Lane Vineyard is a boutique state-of-the-art winery, modern cellar door and award-winning vineyard restaurant. Their Single vineyard Estate wines are paired with their five-course Provenance menu, exploring the rich connection between food, wine and their origins, and designed to feature the best South Australian produce.
Another 'wow' factor location, visiting the Lane is not just about food and wine, but aspires to heighten your food and wine discovery with a range of experiences. The Gathering Experience is the Lane's signature tasting, where you take a seat and enjoy a miniature degustation style wine tasting that showcases the harmony between their estate wines and restaurant menu. A heightened discovery of their flagship Estate range thoughtfully paired with amuse-bouche by the chef.
You can also reserve exclusive experiences including blend your own wine, the Panaroma enjoy lunch in a private location in the vineyard; Boatshed by the lake, Winemaker, and Chef experiences.
Lois NV Blanc de Blancs
A refreshing blend of five different Chardonnay clones showcases its complexity, displaying hints of subtle citrus, white flower, granny smith apple and toasted brioche. A creamy palate balanced by a fine bead and crisp acidity.
2015 Estate Cuveé Blanc de Blancs
The highest parcels of fruit from the Balhannah Vineyard highlight the unique terroir. This is a 'méthode traditionnelle' sparkling, which has been aged for a minimum of 5 years in bottle and disgorged on demand. Aromas of lemon zest and brioche dough with a delicate palate of vanilla bean and shortbread balanced by a fine bead and crisp acidity.
2010 Heritage Late Disgorged Cuvée
The Heritage collection is made to showcase the nuances of single vineyard terroir. This was a highlight, as you would expect from a late disgorged sparkling, lovely and complex on the palate. Made using 'méthode traditionnelle', aged for a minimum of 10 years in bottle and disgorged on demand. A rich palate of tangerine, toasted sourdough, cultured butter, honeycomb and almond praline. All tightly held together with vibrant citrus fruits that drive a lovely line down the tongue and nice length to savour at the end.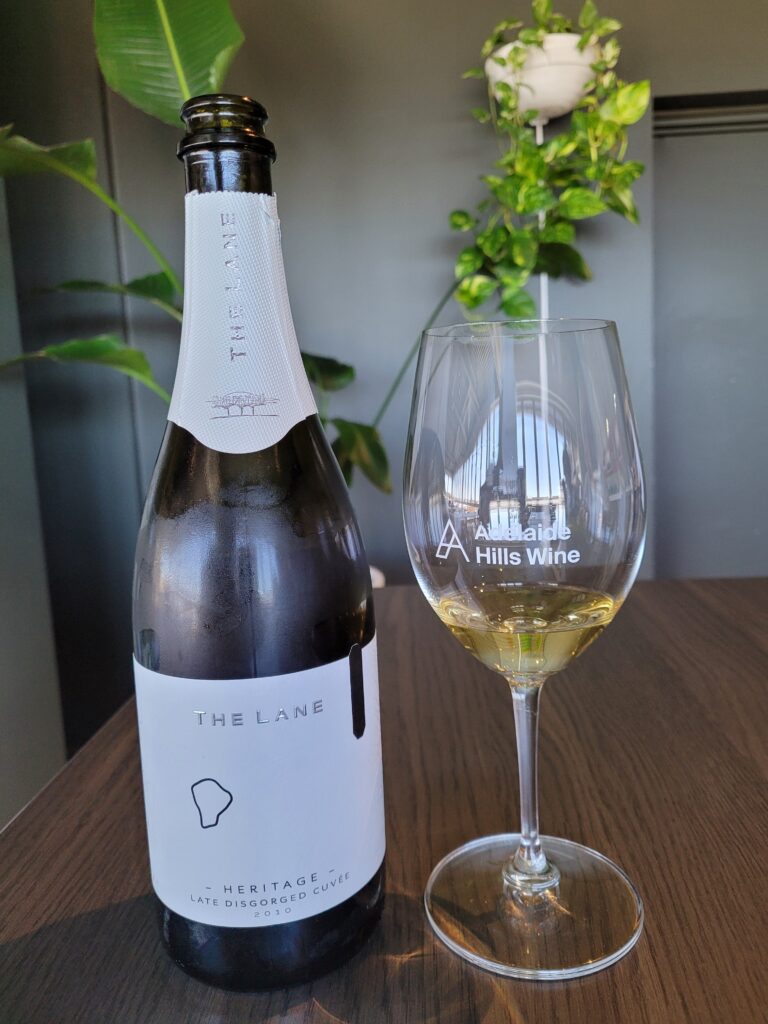 Howard Vineyard
Howard Vineyard is a second-generation family-owned business located in Nairne. When I visited, they had the 2020 Sparkling Rose on tasting. It's a Charmat method, and I met the wine maker Tom who told me that they only do vintage, so each sparkling showcases the fruit of that year. They do some barrel work on the wines before the second fermentation in tanks. They usually have at least one sparkling on tasting. There was a 2020 Blanc de Blancs which was due for release soon, and I managed to get a bottle to take with me and try later. As you would expect from tank method wines, they are fresh and showcase vibrant primary fruit on the palate, producing easy drinking bubbly. There is a youth and playfulness in the heart of what they do here. The Cellar Door has a lovely lawn area with views of the vines, and they have a restaurant with an Asian-influenced menu, known for their dumplings that would be a great match with the sparkling rose.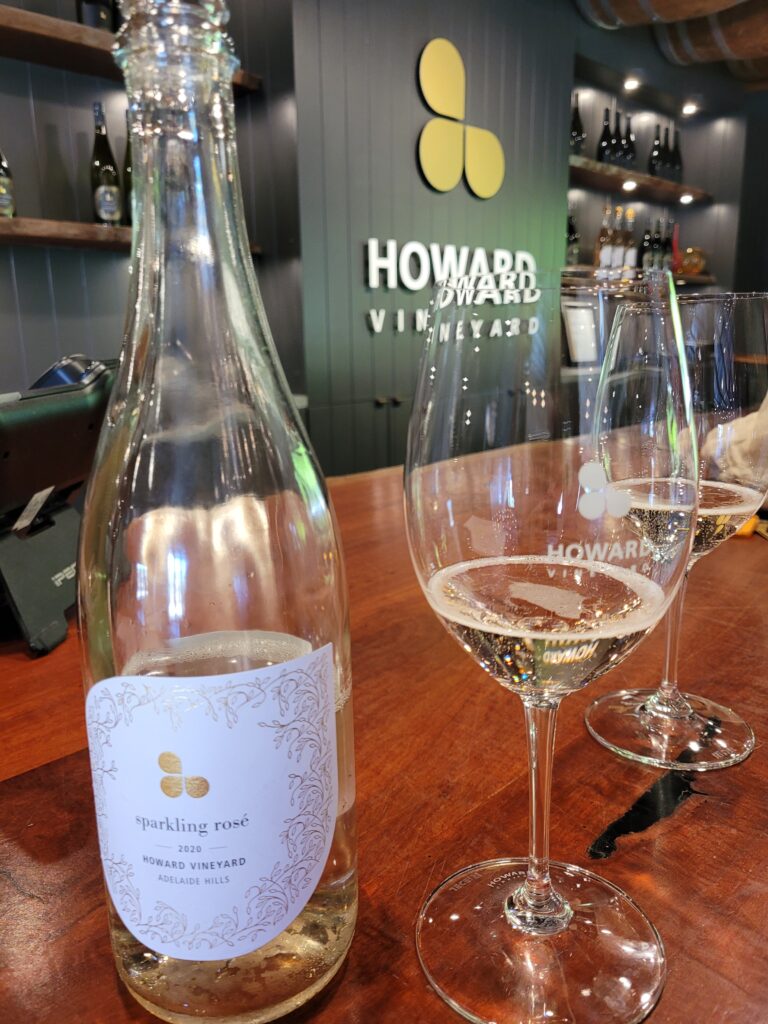 Somerled Cellar Bar – Hahndorf
This wine bar in the town of Hahndorf was a lovely discovery. I arrived just before closing, but the lovely Meela looked after me with a quick tasting of their sparkling, which is not always on tasting. They serve platters, so a visit works well as a pre-dinner stop, or an afternoon of grazing in the courtyard. Somerled is a family-owned label, and their wines are made at the Greenhills Winery. I tasted:
Somerled Sparkling 2016 Min 24 months on lees and disgorged in small batches. 100% Pinot Noir. I do enjoy a Blanc de Noir, and this was light with lovely mid palate fruit and a crisp dry finish. It is considered a Brut Nature with a dosage of less than 1gm.
---
Like to keep following us, get first look at events, receive bubbly information and be in our giveaway draws and have a chance to win a bubbly prize? You can join our list, it's FREE to join here.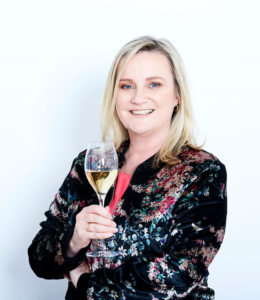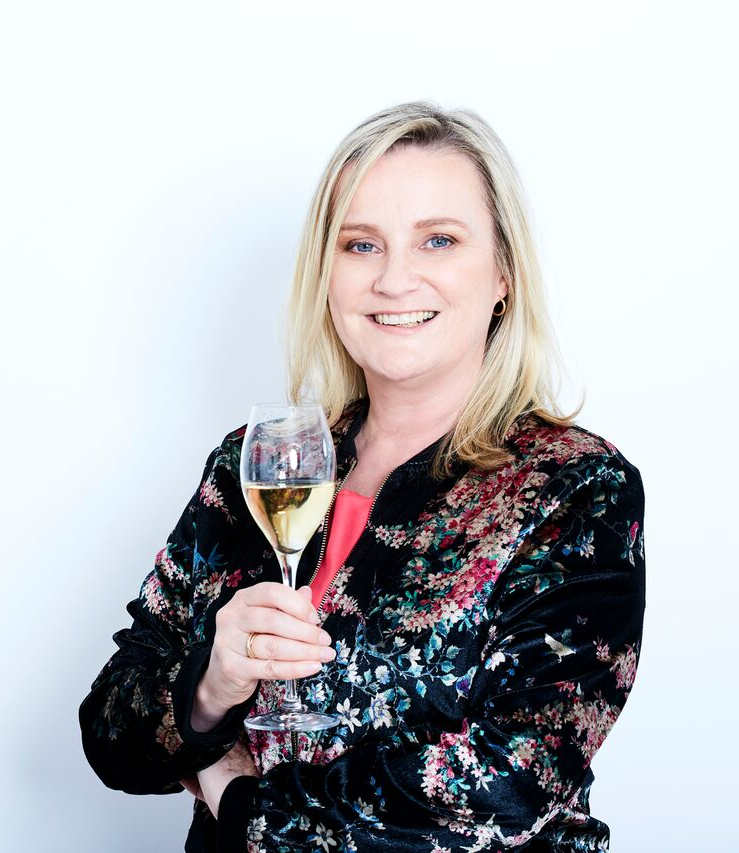 Natalie Pickett is the Founder of The Bubbles Review which is for people who like champagne and other bubbles, written by people who have a love of all things sparkling! At The Bubbles Review, we like to debunk some myths, make the art of drinking champagne accessible, explore bubbly regions and champagne bars, and provide events for you to join us and indulge.