There is a popular misconception that champagne and sparkling wines are only useful for raising a toast or washing down the canapés at a wedding. This couldn't be further from the truth. With Christmas and New Years Eve just around the corner it's time to start experimenting, so we asked our friends Fran Flynn and David Stevens-Castro to share some new ideas to surprise your guests and open the door to new discoveries that your tastebuds will be forever grateful for.
Here are some tips on matching bubbles with your food choice:
While true champagne (i.e. produced in the Champagne region of France) is usually around $50/bottle or more, there are other delicious bubbles that come at a lower premium. Having said that, it is still worthwhile buying the best that your budget can afford, unless you have a hot tip for a cheap steal. Or if not champagne you could choose a nice sparkling produced elsewhere.
French sparkling wine with 'cremant' on the label is a creamy style of sparkling wine also produced in France. It is produced with similar methodology to champagne but the grapes come from other regions of France. Cava is the name given to sparkling wine produced predominantly in Northern Spain. It is created using native Spanish grapes that usually present a slightly fruitier style to champagne.
In general dry (brut/extra brut in French) sparkling wines tend to match very nicely with oily, nutty and egg-based dishes. Seafood is also a pretty safe bet — and the perfect match for Christmas day prawns. Chicken can work too, but make sure you take into consideration any sauce that accompanies the dish, e.g. something tomato-based is a no-no, however, light creaminess can still enhance nicely.
See the pairing recipe here for Tagliatelle Marinara with cream sauce and chives
There are red varieties of sparkling wine and some can go beautifully with a meaty meal such as duck or lamb. Australia actually produces the largest proportion of available sparkling shiraz. Young examples are usually refreshing, rich, fruity and juicy with a touch of sweetness. Older examples are typically rich and lush in style, and some high quality bottles are suitable for cellaring and aging. Sparkling red offers a surprising texture on the palate and a sparkling shiraz can be a real conversation starter among virgin tasters. For a new angle to the barbie this Christmas, try some sparkling shiraz with your meal.
Moscato is a low-alcohol sweet, often pink, sparkling wine. It generally has an aroma of Turkish delight and is a delightful daytime tipple for holiday time. It is a beautiful accompaniment to an afternoon of high tea with delicate sweet treats or even your Christmas pavlova.
Sparkling rosé can often be mistaken for a sweet wine due to its pink colour but, in fact, it is usually dry in style and very versatile when it comes to matching food. It has a particular affinity with charcuterie (cured and smoked meats), duck, salads, shellfish, berries and chocolate — and even pork! Again, this is particularly enjoyable on a sunny summer's day.
So put your preconceived notions to one side, take a step out of your comfort zone, offer your guests something new and bask in discoveries that will surprise and delight your palate (not to mention increase your street cred!).
—–
Written by Fran Flynn & David Stevens-Castro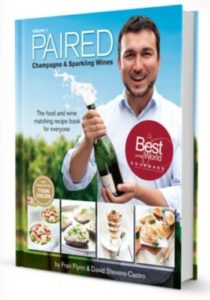 David Stevens-Castro is a highly regarded wine expert. He has a degree in Agricultural Science, specialising in fruit and wine production, and extensive experience as a sommelier. Fran Flynn is an award-winning commercial photographer and graphic designer. Living together on the Gold Coast, in Australia, they have pooled their skills as a husband-and-wife team to publish a series of books and share their expertise in the things they love. Check out their multi award winning food and wine match book – PAIRED – Champagne & Sparkling Wines – The food and wine matching recipe book for everyone at their website – www.paired-media.com
Like to keep following us? Sign up to The Bubbles Review list and you will be included in our monthly Subscriber prize draw.  Join our list!