It seems like Pét-Nats are popping up everywhere at the moment. One might assume that they are a new wine style, or just another hipster trend. Well, they are definitely 'on trend', but you may be surprised to discover that Pét-Nats are actually the oldest sparkling wine! With records showing them pre. 1500s long before the sparkling wines of England (1662) and then Champagne in 1668.
So, what is a Pét-Nat?
Pét-Nat is short for pétillant naturel, which is means "naturally sparkling" in French. It is made in the "ancestral" method of bottling before the first fermentation has finished, allowing the process to complete in bottle (as opposed to the Champagne method, which commences second fermentation in bottle after the first has completed in tank/barrel).
The more rustic approach to making pét-nat means that there is less interference, so it is on trend as a natural sparkling. It is usually less bubbly and less refined, so I wouldn't compare it to champagne or other sparkling wines, but be open to try something different. I have seen some people liken it to drinking beer (although it is still made with grapes), I can see the comparison, as it refreshing in that way and this winemaking process results in a less alcoholic wine. This relaxed, casual wine is perfect for an Autumn picnic matched with a Charcuterie plate, or try it with something sweet!
Our giveaway this month is from Chateau La Colombiere which is in Fronton, 30 mins north of Toulouse, where husband and wife team Diane and Philippe Cauvin are painstakingly nursing back from extinction some of France's rarest vines. The pair are living their dream, crafting wines from the regional ancient variety: Negrette which is native to their area of Fronton. Diane took the reins of the family estate after learning viticulture and completing a tour de force throughout French vineyards including Burgundy. The first and perhaps the most significant change was to step up the effort to preserve these rare vines by farming biodynamically in 2006. As the vines have been cultivated here in the same way since the 15th century, this was a significant change, to say the least. Add to this hand picking and sorting and you get the base to create something delicious.
The feature this month is 2016 Chateau La Colombiere, Sparkling Pet Nat, Negrette.
Tastes like: Some sediments in suspension, the mousse is rich, bubbles are generous and active for a Pét-Nat even after opening. It is a delicious dry style with yeasty and fresh strawberry as well as fleshy peach notes. This smashable low alcohol sparkling Pet Nat have also some cider vibe with flavour of ripe red apples.
Area: Fronton (South-West France)
Farming: Biodynamic (certified)
Grapes: Negrette (100%)
Occasion: Brunch/ lunch/ dinner wine! A perfect park wine or by the pool.
Food match: Charcuterie, salads or fresh goat cheese.
When to drink: Drink now or before end 2019.
With special thanks to Mosaique Wines who import and distribute this and other artisanal wines from France. The owner Thomas Gisbert told me:
"I travel extensively throughout the country each year to bring you a collection of wines that reflect the heart and soul of this land- a mosaic of small and beautiful parts that make a bigger picture.
Each wine has been hand-selected for the unique qualities they express, lovingly made by local producers who dedicated their lives to their craft. These producers respect the land they farm above all else, using sustainable, organic or biodynamic techniques to nourish their vines and the ecosystem around them. We have endeavoured to tell their stories in the hope you can envisage yourself sharing a glass with these characters and enjoying the fruits of their labour."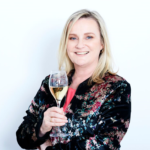 Natalie Pickett is the Founder of The Bubbles Review which is for people who like champagne and other bubbles, written by people who have a love of all things sparkling! At The Bubbles Review, we like to debunk some myths, make the art of drinking champagne accessible, explore bubbly regions and champagne bars, and provide events for you to join us and indulge.
Like to keep following us? Sign up to The Bubbles Review list and you will be included in our Subscriber prize draws. The monthly giveaway is usually a chance to win a lovely champagne or sparkling gift. Join our list!