Who doesn't love a pink bubbly?! Let's not mistake it for a sweet drink (sparkling Moscato), a sparkling or champagne rosé has a rich flavour profile with a crisp dry finish that is a perfect to drink as a food match at this time of year, or anytime really!
Australia makes the top 10 in the world for champagne imports, although we are the second lowest for imports of rosé champagne, but this trend is changing, 2018 saw the highest imports in a decade.
For every 28 bottles of champagne popped in Australia, one of them is pink. Across all markets, it's one in ten, and the USA set a new record last year of more than one in six.
Possibly a case of supply vs demand, as there is less choice when looking for a rosé champagne. But this is definitely shifting, I've noticed more and more options and there are also some great Aussie sparkling rosés available. I am happy to do my bit for increasing demand!
The method to create the bubbles in a sparkling rosé is the same as white sparkling, but how the colour is achieved may differ between blending (assemblage) and saignée.
Rosé d'assemblage is a blending method, the most common way of making rosé, in which a tiny quantity (around 15%) of Pinot Noir or Pinot Meunier made as table wine is added to the white base wine.
The Veuve Clicquot was the first to use this method. Breaking away from the tradition of adding an elderberry-based preparation to create rosé champagne. Madame Clicquot created the first "rosé d'assemblage" by blending some of her red wines from vineyards in Bouzy with her champagne to create the very first blend of rosé champagne.
To make champagne, only certain grapes can be used, there are seven grapes on the list, however there are three that are most commonly used, which are Chardonnay, Pinot Noir, and Pinot Meunier. Only one of the three, is actually a white grape.
(See the full list of champagne grapes here: FAQ)
As described in our blog: Come quickly I am drinking the stars.
It is the skin that creates the red colour of a red wine, to create a white sparkling wine from red grapes, this is done by gentle pressing with very limited skin contact. In different champagne styles you will find a 100% Pinot Noir, which is known in Champagne as a Blanc de Noirs meaning white from black. So, although it is 100% Pinot Noir it will still be a white champagne, as it is not pressed on skins.
But, using the second method of creating a Sparkling rosé, the saignée method, the pink of a rosé can be achieved by using the skins. Saignée literally means bleeding in French and with this technique the rosé is made by 'bleeding' off juice from just-crushed pinot noir or meunier grapes after a short maceration (soaking) on skins prior to fermentation.
This minimal maceration allows the must (still wine) to develop stronger aromas and flavour profiles while deepening the colour.
In sparklings from other parts of the world you might find a sparkling Pinot Noir or other grape varieties to create a sparkling red wine. But you will never find a sparkling red in Champagne, as it is against the rules to make a sparkling red in Champagne. A pink as a rosé is okay, and there is a still red wine, the Coteaux Champenois which is allowed, but never a red champagne.
In Australia, a Sparkling Shiraz is loved by many. Sparkling red wines begin their life in the same way as still reds, fermented on skins to extract colour, flavour and tannin. The finest are then privileged to méthode traditionnelle, although transfer, charmat or carbonation methods can also be used.
Our giveaways over the past few months have featured some lovely sparkling rosés and champagne, keep an eye out, we may even have some sparkling red in the pipeline! A sparkling rosé with dumplings is a heavenly match. I love the change of seasons, the cooler nights, which go so well with hearty food, casseroles and rich flavoured meals. Perhaps a long weekend lunch or evening meal, with a sparkling rosé or red might be the perfect bubbly match for your Autumn and Winter dining.
You may also like these blogs that talk about champagne techniques and tasting:
Why that is not a glass of Champagne that you are drinking!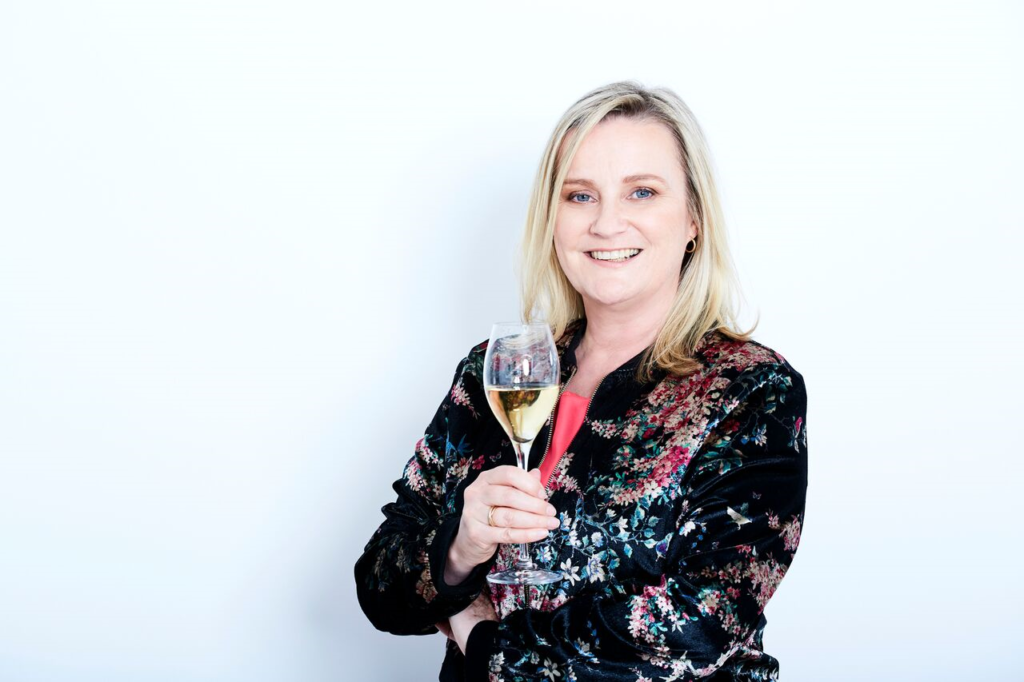 Natalie Pickett is the Founder of The Bubbles Review which is for people who like champagne and other bubbles, written by people who have a love of all things sparkling! At The Bubbles Review, we like to debunk some myths, make the art of drinking champagne accessible, explore bubbly regions and champagne bars, and provide events for you to join us and indulge.
Like to keep following us, get first look at events, receive bubbly information and be in our giveaway draws and have a chance to win a bubbly prize? You can join our list, it's FREE to join here.