If you have followed me for a while, or have come to one of my events, you would know that I think that champagne and sparkling wine is one of the joys of life and something to be shared.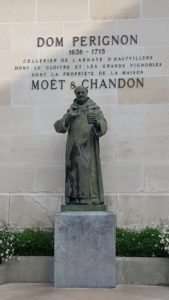 Dom Perignon is one of my heroes for discovering the art of the second fermentation to make the bubbles in champagne and sparkling wine.  His famous quote when he wanted to share this discovery "Come quickly! I am drinking the stars!" resonated with me.
So, imagine my disappointment when my research in recent years revealed that he wasn't the inventor of the bubbles.  In fact, Dom Pérignon was originally charged by his superiors at the Abbey of Hautvillers to get rid of the bubbles, since the pressure in the bottles caused many of them to burst in the cellar.  The bubbles had been occurring by accident mainly due to fluctuations in temperature, which produced a re-fermentation and this bubbly wine was considered to be faulty and given the nickname of the Devils Wine. Quelle horreur!
It seems that it was an English chemist. Well, scientist and physician – Christopher Merret who documented the addition of sugar to a finished wine to create a second fermentation, six years before Dom Pérignon had arrived in the Abbey of Hautvillers. Merret presented a paper at the Royal Society in 1662, in which he detailed what is now called méthode champenoise or methode traditionelle.
So, he may not have been the first, but let's not let the facts of history get in the way of a good story. Along with the romance of so many stories that I love about Champagne, I am happy to still give credit to Dom Perignon for his discovery that it was not in fact the wine of the devil, but perhaps in my opinion at least, and I am sure that many of you concur – that it was a gift from the angels.  Dom Perignon is however credited with unearthing many other great techniques in the making of champagne that are still used today.
He created the technique that allows winemakers to produce a successful white wine from red grapes. This, say winemakers, was a major step toward the development of modern champagne.
At our event The Bubbles Festival, I am always surprised to discover that there are many people who do not realise that red grapes are used in making champagne.  Although we hear the names of the grapes in the blends, it doesn't always register, and our eyes deceive us when we are surely drinking a white wine!
The method is using red grapes with gentle pressing that separates the juice without spending time on the skins.  Think about the last time you peeled a red grape (or if you are lucky had someone peel it for you) the fruit inside is not red, the red colour comes from the skins. After harvest the grapes are pressed several times and different juices or cuvees are obtained at these different stages of pressing.  In champagne, only the first (as a prestige cuvee) pressing is used and this is the same for most quality sparkling wines, although sometimes the second pressings can be used.  There are several pressings of the same grapes, other pressings after that may be used for table wines and fortified wines or liqueurs.
For champagne only certain grapes can be used, there are seven grapes on the list, however there are three that are most commonly used, which are Chardonnay, Pinot Noir, and Pinot Meunier. Only one of the three is actually a white grape.
(See the full list of champagne grapes here:  FAQ)
There is only Cru ratings for Pinot Noir and Chardonnay and they are considered the King and Queen of a champagne blend, the Pinot Meunier is used more for balance and it also helps the wine mature with less age.  I have however noticed a movement in champagne recently championing the Meunier grape (as well as some of the other grapes on the list) and I have tasted a few champagnes and also a still wine made from 100% Pinot Meunier.
Blending is led by the winemaker but it is rarely the work of a single person, usually reflecting the combined talents of a team of professionals or family members. It does however rely on the sensory experience and memory of each individual team member.
When I met Laurent Fresnet, who is the chief winemaker at Champagne Henriot and has won the prestigious award of Sparkling Winemaker of the Year more than once, he told me that blending starts in the vineyard with the fruit. "I stand in the vineyard, tasting and smelling the fruit, this is where the blend starts".
Marrying different grape varieties brings contrasting and complementary qualities to champagne wines.
You will find some champagnes that have the three grapes in the blend, some blends may have only the two grapes of Chardonnay and Pinot Noir, but there is usually a particular focus, either Chardonnay led or Pinot Noir led, eg. 60% Pinot Noir, 40% Chardonnay, or vice versa, often with a smaller amount of Pinot Meunier used for balance. The particular style will usually depend on the champagne house and the winemaker.  Some houses may have quite a variety in their range.
You will also find some champagnes that use 100% of the one grape variety.  These are usually a 100% Chardonnay which is known as a Blanc de Blancs which literally means a white from whites. Or, you will also find a 100% Pinot Noir which is known in Champagne as a Blanc de Noirs meaning white from black.  So, although it is 100% Pinot Noir it will still be a white champagne. In sparklings from other parts of the world you might find a sparkling Pinot Noir which is a red sparkling, but you will never find that in Champagne, as it is against the rules to make a sparkling red in Champagne, a pink as a rose is okay, but never a red champagne.
The blending also involves blending wines from different years (for non vintage) and from different Crus meaning different parcels of grapes from different vineyards.
By combining wines with different sensory characteristics (colours, aromas, flavours) the Champagne maker looks to create a wine that is carefully balanced with a harmony of notes and flavours.  After blending, other techniques influence the profile of the wine which include, ageing on lees, and dosage – the final stage before release.
Champagne has such diversity, try different styles, explore different blends, follow the ones that you like, and be open to new discoveries.
Our February giveaway has been a bottle of Blanc de Noirs from Champagne Philippe Fourrier, from the Côte des Bar where the climate and clay soils suits the Pinot Noir grape perfectly.
All due respect to Dom Perignon for this legacy which seems divinely inspired. Drinking the stars it certainly is!
Cheers
You may also like these blogs that talk about champagne techniques and tasting:
Why that is not a glass of Champagne that you are drinking!
Do you know the way to make rosé?
Natalie Pickett is the Founder of The Bubbles Review which is for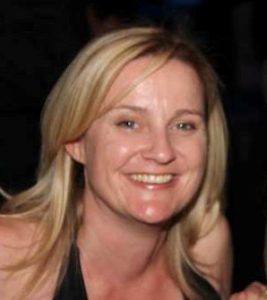 people who like champagne and other bubbles, written by people who have a love of all things sparkling! At The Bubbles Review, we like to debunk some myths, make the art of drinking champagne accessible, explore bubbly regions and champagne bars, and provide events for you to join us and indulge.
Like to keep following us? Sign up to The Bubbles Review list and you will be included in our Subscriber prize draws. The giveaway is usually a chance to win a lovely champagne or sparkling gift. This month was the Blanc de Noirs from Champagne Philippe Fourrier.  Join our list!