Do you love Sparkling Red wine?
As we discovered in my recent blog on rosé, there is no such thing as a red champagne (a rosé but not a red), but there are sparkling reds from other parts of the world made with all kinds of red grape varieties.
Sparkling red wines begin their life in the same way as still reds, fermented on skins to extract colour, flavour and tannin. The finest are then privileged to méthode traditionnelle, although transfer, charmat or carbonation methods for cheaper wines can also be used.
In Australia, a Sparkling Shiraz is loved by many. I recently confessed to my fellow bubbly enthusiasts that I do love a sparkling rosé, but I am not a lover of sparkling reds. I realise that is un-Australian, and wondered if there were others that shared my view? So, I put it out there and sent a survey to our list, and oh my, what a flurry of passionate responses!
Although there are no precise records, it seems that the tradition of Aussie sparkling reds can be attributed to Charles Pierlot a winemaker from Champagne who was employed at Hans Irvine's Great Western cellars. He experimented with making some of Australia's first 'sparkling burgundy' wines in 1893. More than 125 years later, this legacy continues with Seppelt and other Aussie producers now known as makers of some of the world's finest bubbly reds.
I do love the change of seasons, the cooler nights, which go so well with hearty food, casseroles and rich flavoured meals. As we are in the cooler months here in Australia, perhaps a long weekend lunch (or brekkie as one of our readers suggested!) or an evening meal, with a sparkling rosé or red might be the perfect bubbly match for your Autumn and Winter dining.
Here are the results to our bubbly red questions:

We asked ~ What do you like, love or dislike about sparkling reds?

Here are your comments:
Tracey
A great full-bodied alternative to
sparkling whites.
Lynn
Cannot drink still or sparkling red wines … bad reaction
Rhonda
I like sparkling reds more with
heavier foods, so more in the
colder months, however I did have a
couple of nice cold refreshing red
bubbles over summer. It's nice
to be able to have a choice and
some variety.
Kaye Harris
Love the earthiness of Grampians
Estate sparkling red from their
Great Western block victoria
Mandy P.
Some of the sparkling reds can be a bit
heavy.
Barbara Kahi
I think it is an acquired taste. Not great availability where I live. Need to find a
friend to share a bottle.
My wine drinking friend lives in
NZ and I live on the Gold Coast.
Maybe share with my brother in
law who likes to chill his red wines.
Cassie Maywald
I don't like red wine and relate
similar taste to this I think. I also
don't want to risk buying a
sparkling red only to be
disappointed and
wished I stuck to my champagne.
I like sparkling reds as they feel more
celebratory than a still wine. Rose
is my favourite at present
Karen Nicol
I adore red wine, but what could be
better than red wine with bubbles!
Sandy
Love the fresh bubbly berry tastes
Robyn Naughton
They have just a different texture and
flavour
Donna Maloney
Love the taste, goes well with food from chilli chocolate to duck to
dumplings. It looks festive and
bubbles are always wonderful.
Louise
Love Sparkling Merlot & Shiraz. I
believe they are like a truth serum!
Either summer or winter I
absolutely love a chilled sparkling
red. So full of flavour
Carol
I like them as a yummy alternative
to
sparkling white. There are some
lovely Victorian ones from up
Rutherglen way. They also go well with cheese at the end of a meal.
Michelle 🙂
They do not have the same
crispness and are not as refreshing
I enjoy sparkling white wine
personally and sparkling red is
something I can only drink in small
amounts, not as enjoyable.
Susanne Meier
I love the marriage of red and
bubbles. The bubbles totally
change the nature of reds. Versatile food pairings in cooler temps.
The bubbles, and the sensation of

drinking sparkling red
Jan Martin
I like red wine and love bubbles! A great combo and a Christmas
tradition!
Marg
Drinks well while eating cheese
and sometimes l prefer a sparkling red
instead of a heavy red.
You still have bubbles but with a
heavier meal.
I leave in North East Vic and we
have a few great reds that are
great sparkling wines
Megan
I don't drink red wine, so If I try a
sparkling red, I just find it too
heavy.
Nicole Olbourne
The flavour profile is just all
wrong when it's a sparkling.
Maybe it's the tannins but it's just
yuck!!
Kate
The delight the bubbles add to the red
experience.
Sue Hobbs
Too fruity. It's like fizzy cordial
Heather
They are very different I wouldn't drink a still red if you paid me
Lyn D
Not really a lover of reds sparkly or still
Beverley Monley
I don't like as I just think a full
bodied Red with bubbles just isn't
right & I just don't like the taste.
Mel
I don't like cheap sparkling reds as they are sweet and horrible, but
good quality wines have richness,
good dark fruits and savoury notes and
complementary sweetness. I
love them mainly in the warmer
weather, especially at Christmas,
but happy to have in cooler
weather as an aperitif too.
Shauna
I love a true Lambrusco that has a slight sparkle to it.
Particularly in winter.
Zoe
I mainly drink Shiraz so a sparkling red is a bit of fun.
Mel Butler
They tend to be too heavy and
sweet. I like my sparkling wine dry and
light, crisp and favoured in
warmer weather.
Lee
Any sparkly wine that's not too
sweet is great.
The benefits of drinking a lovely
full bodied red with the all
important bubbles.
Michelle
I don't mind the occasional one but

some are too sweet and I prefer
still red.
Meryl
Not fond of red. Will drink it if I
have to, but not
my preferred tipple.
Sofie
I just don't drink red wines and
the bubbles do nothing to
change my mind or enhance
the flavour.
Dr Annetta Mallon
Often they are too bold, heavy, or
just 'too much'. I generally prefer
sparkling white and rose.
Carol Embleton
It doesn't have the same fresh taste as
my usual bubbles. I only like still
full bodies red wines. There is just something that doesn't blend with my taste
buds about sparkling red.
Karen
I have just never been a lover of
red wine
Sherryn
Absolutely love the depth of
flavour in a decent sparkling red
Jane Symes
Love red wine sparkling or not,
turning to the dark side after years of
white wine, red just better.
Leanne Bruce
There are some great sparkling
reds and it is a drink I enjoy in
winter as I love my bubbles 🙂
I find them too heavy to drink
I can't really comment as I have
only had limited tries.
Tanina
I love red wine, however I've
never found one Sparkling
red I've ever liked, it's
something about the taste, it
just doesn't taste like a red, they
also can be tricky to open
and fly out the bottle
when opening, be careful
you don't get covered
in it!
Georgia
A really good sparkling red is an
experience you rarely have when
drinking anything 'bubbly'. It has a zest and vibrancy that is exciting
and really let's you appreciate the
red variety it has come from.
Loretta Wellman
I get drunk very quickly with
sparkling red yet I can drink a
bottle or two of champagne and
I'm just HAPPY!!!!!
Chanel
I am not a fan of sparkling reds, I
think the whole attraction to a red
is the temperature and thick
feeling and the sparkling seems
to take that away. Having said this, I am open to the idea of a
sparkling red and will keep
taste testing them at wineries as
you never know I
might change my mind.
Anne Mac
Prefer still reds
Ann
I love the rich red colour and
jammy berry taste. Even chilled it's a
winter warmer for me
Wendy McCullough
They are good when you only want to
have just one glass of bubbles.
For instance, tonight my partner
wants to celebrate a small win. I
don't want to drink a full bottle (which I will do if I open white or
rose sparkling) so a sparkling red
will ensure I just have one, ok, two. I
don't drink the flat reds or whites.
Feels too heavy.
Debs
They seem to affect me a lot
quicker – heavier to drink!
Pauline Lang
I don't have them often but as long as it
is not sweet ok.
Katherine
Bit too big for my liking. It's a bit
like drinking a bubbly shiraz.
Denis Zaruba
I'm French and for me the only
reason why Australians created
sparkling reds is to have it on very hot
days (30 + degrees) and it's not at
all as fine as champagne is. It's
overpowering!!
Nicole
I think they are too heavy
Not quite as bubbly as champagne but
brings out special flavour of the
red….still prefer still red though.
Carmela Dimattia
Cannot be sweet so I like my reds
a little drier
Too strong
Carolena Boyd
I really like the boldness of a good red – combined with the bubbles.
Prefer sparkling white or rose,
rarely drink any red wine at all.
Anna Buddee
Just love the rich heady aroma of
the bubbly sparkling reds!
Pam
I enjoy drinking sparkling red on a hot
day, usually with a cheese
board, for something different.
Sharon
Some are amazing and others too heavy. I'll try any wine once but
sparkling reds make me a bit picky
Wendy
A little more full bodied than
normal sparkles.
Michael Potter
I've never found one yet that I can drink. The flavour isn't my cup of
tea… or glass of wine.
Isa
I just prefer a flat red or a white
sparkling. I don't like the taste of a
sparkling red
Megan Deves
I love a little more full flavour
sometimes when I'm craving a
sparkling
Vicki W
Not a red wine drinker whether
still or bubbly…I dont mind rose
but anything heavier is not my
style.
Cheryl
Some time you need a red and I
don't do plain reds but with a steak or a bbq a sparkling red goes down well.
I don't love red wine as much as I
love white wine. And sparkling red is
just so foreign and unappealing
to me
I don't mind a light red sparkling but if
it's too heavy I don't like it at all.
Anitra
I used to enjoy them 15-20 years
ago but don't any more. I think my
palate is more discerning these
days.
I enjoy sparkling wines and also
red wine so being red & sparkling
is a nice change
Lynda Doncaster
Better than champagne or a glass
of red as combines both!!
Karla
They're great. So much depth of
flavour for when you have a hot
meal and/or cold weather.
Ainsley
The rich colour, all the big
red-wine flavours combined with
the mousse mouthfeel of bubbles –
it's a winner for me. I prefer a
sparkling red to a still as the
bubbles seem to lighten the wine a bit?
Karen Brus
Love it in winter, a different take on a
still red. My hubby loves
sharing a bottle with me.
Lucy
They taste wrong. You lose the
depth of a good, still red wine and
the sparklings don't have the
vivacity of a good sparkling white.
Cheryl Bisi
Reds just aren't meant to be
sparkling! Reds are a 'heavier'
type of wine that does not suit the
light nature of a sparkling wine
in my view.
Suzanne Adair
Red is red and bubbles are white
and pink
Chris
Bubbles
Jane Ross
As long as they're not too sweet.
Sparkling red is the bomb! Love it
Wendy Hills
We only drink them in winter as
a refreshing drink, not a serious
wine if that makes sense.
Lisa Cicchine
I love the intensity of Sparkling
reds
Mark
It just tastes wrong – a fad that
needs to die!
Chris
Well it is sparkling, so I have to
love it. Not a big red wine
drinker, prefer bubbles, so this
is a fabulous way to get all those
red wine "health benefits " !
Fiona McL
I have a local favourite that I just
find easy & comforting to drink
Sparkling reds are too heavy
for me
Pene Kats
I quite like Lambrusco.
It's an Italian wine that is slightly
sparkling and has a pleasing, deep,
fruity flavour.

Make sure you invest in a decent
label though, this wine is not good when it's cheap. Brown Brothers
do a nice one for between $10.00
to $20.00 (I cant remember
exactly!).
Make sure you drink this cold!
Simon
Deep rich sparkling wine with a
flavour which complements many
foods
Dot
Taste is bitter
Love red wine and it is a tasty
red with bubbles !!!!
Caz Karski
I have never been a fan of red
wine, so it just seems logical that
even putting bubbles into it,
I wouldn't like it.
Lis
It's diversity and pairs well with
food. Great on a hot day.
Jules
Grew up having 'cold duck' with
Sunday lunch! Love sparkling red
to this day
I like the heaviness of the red wine in
winter but still with a sparkle!
Dislike the nose
Alison
The depth of flavour combined
with the joy of bubbles.
Maree
I think a red should be smooth rich ripe full bodied but not bubbly.
Maz Glover
If it's a sweeter red I am sure I will drink it
Melinda
The taste is just not correct to me
Doreen Swann
I just don't like reds of any kind
but my husband loves reds
Kerrie Hodgson
I really love bubbles full stop, so if
I start on champagne or bubbles,
I can easily follow up with a
sparkling red rather than a still
white or red. After the first couple of
sips its just as delicious as
bubbles.
Sharon
I like my bubbly to have a light
flavour and red tends to be very
full bodied
Maria Moreira
I love the tingling, bubbling, fresh,
effervescent sensation on your
taste buds and the chilling vibe
you get from swishing sparkling
reds in your mouth. They tend
to go with many varieties of food!
Kristan Lum
I think the bubbles help with
sparkling reds, adds a different
texture in flavour and exciting
Hate the smell of red wine
Kym Durbano
Don't like the taste
Kerry
Sometimes I just like the feeling of
something sparkling. It is
refreshing. You don't want a big,
bold red just something light.
Nedda
I just like bubbles can drink
anything including reds
Lynn
I do not like red wine sparkling or still
and they do not like me!
Anne
It just does not seem the way to do a
sparkling
Jackie K
Most taste lighter, a great
alternative to a heavier red.
Kate
It just doesn't feel like the right
combination. I don't enjoy the red
flavours when it is fizzy and cold. I miss the crisp freshness of a white. The
furthest I will go is a sparkling Rose for
the added fruitiness.
Leave reds alone.
Brenton Jolly
Just something different and
unusual and something delicious
any time of the year.
Robbie Poulton
As a Champagne traditionalist I
don't enjoy sparkling reds…too
heavy! However I do enjoy a
cheeky sparkling Rose. It's all
about the texture for me.
Louise Lupton
I find all red wine too heavy even with
bubbles
Heidi
I think they are ok, although maybe a bit weird.
They taste good and are an
alternative to white bubbles
Ally
They can be hit and miss,
sometimes too sweet. You want
some sweetness, but lovely plum
flavours, great with cheese or
dessert
Elaine
I haven't found one I like the taste of
Sharyn Campbell
Can't really pin point why but I do love
red wine and drinking it with
bubbles (and cold) is just not for me.
I probably like sparkling
white as I don't drink white wine
much and sparkling white is just
so good for any occasion.
Jodi
I love red wine, I love bubbles, so
a sparkling red is a favourite of
mine, refreshing and
flavoursome 🙂
Sue. S
Sparkling reds make a nice fruity change from white bubbles
Ann Blannin-Ferguson
At non-summery days a sparkling shiraz with some yummy cheeses is perfect
Lennie Lister
Unique, food friendly, suits
climate/BBQs/outdoor dining
Dan B
Took a fine young lady on the
vintage Daimler Benz tour of the
Barossa in 2003 and a work
colleague suggested going to
Charles Melton and he hand makes a
sparkling red every few years
method traditional. Tasted one
then, it was great bought some,
he said you can put it away for
20yrs and drink on a special
occasion, cracked one at my
father's 70th 2 yrs ago. Still great.
Audrey Wilkinson makes one also
in Hunter.
Rachel
You can drink reds in the middle of summer! And drink bubbles in the middle of winter.

I don't like the overly sweet ones.
I don't like red wine
A tad too big for my liking..
perhaps dangerous is the word!
Nadine Lambert
I'm a South Australian. We love
our reds, the bigger, the bolder,
the better. But it's also bloody hot
in summer. Arguably too hot to
drink our big reds (even chilled),
so a big bold dry sparkling red is
the perfect compromise. (just don't give us any of that sweet red sh#t). Love
from your South Australian
readers
Jodie
I'll be honest, I'm undecided about
the taste.
Lisa Scheepers
At first I was dubious about
sparkling reds as I love my red at
room temperature. After trying a
sparkling shiraz one day I've been
hooked ever since. I love the
full body of shiraz mixed with
the light bubbles.
Tiffany Hansen
Dislike – taste is awful on all reds
Julie
Not a big fan, I just prefer
Sparkling whites or Rose. Not as
heavy in flavour.
Cecilia
I love sparkling Shiraz. You get the full
body flavour but a sparkling
version of a still red.
Chilled sparkling red is much
lighter and refreshing
Anthony
A good chilled red on a hot day can be
lovely. Especially Stanton & Killeen's
sparkling red in Rutherglen.
Sarah Mack
Perfect blend of winter and
summer. Sparkling reds in
summer chilled and add a
lightless in winter.
I only like them if they are a light red.
Helen
Don't seem to have the same taste/effect as white sparkling and gives me a
headache.
Oli
So warming in winter
Mark Phelps
Fantastic drink, I love a good red
and to add bubbles is a unique way to
enjoy them. Great with a cooked
brekky as well as by the fireside.
I'm not a red drinker, so I think
that preference transfers in to the
sparkling reds.
Sometimes they can be very
refreshing.
Kelly (Gadgetgirl)
It is somehow just wrong. I like full
bodied reds, especially in winter.
Bubbles to me, are cold and refreshing
and best drunk all year round.
Elaine Mitchell
It's something different and a light hearted way to enjoy reds in Summer as I am not a fan of "chilling"
reds. It's also a good way to get non red drinkers eased into reds.
Thank you to everyone who shared their comments. I really loved reading them all. I always say, there is no right or wrong when it comes to tasting wine. If you like it, that is all that matters.
I did notice in our subscriber comments that some mentioned sparkling reds were "dangerous" and a "truth serum". A reminder that red wine usually has a higher alcohol content than white wine, and this is especially so with bubbles, a champagne at 12.5% and a prosecco is usually around 11%, compared to sparkling reds at around 13-15%. Remember to pace yourself and enjoy responsibly!
You may also like these other blogs:
Do you know the way to make rose
Why that is not a glass of champagne that you are drinking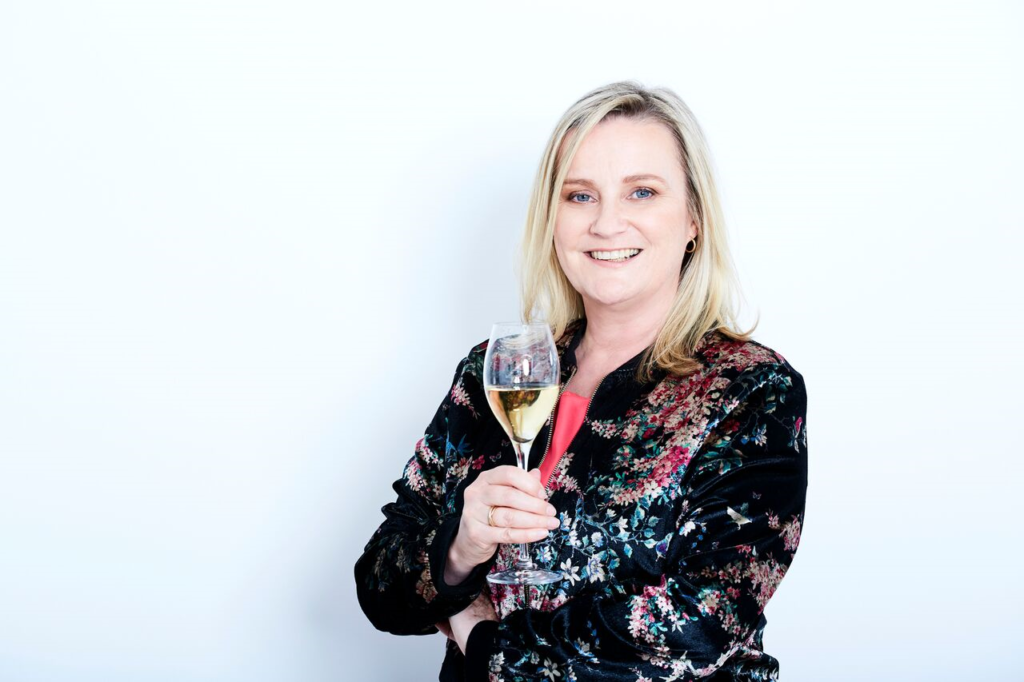 Natalie Pickett is the Founder of The Bubbles Review which is for people who like champagne and other bubbles, written by people who have a love of all things sparkling! At The Bubbles Review, we like to debunk some myths, make the art of drinking champagne accessible, explore bubbly regions and champagne bars, and provide events for you to join us and indulge.
Like to keep following us, get first look at events, receive bubbly information and be in our giveaway draws and have a chance to win a bubbly prize? You can join our list, it's FREE to join here.