There are many examples of amazing women in Champagne, here a few names you might know, and some you would like to know more about. From historical to modern times, if you look at the dates, they are around 50 -100 years apart. In life, we all benefit from the legacy created from those that came before us. International Women's Day is the perfect time to celebrate that. Here's cheers to all of the fabulous women of Champagne!
The word 'veuve' means widow in French, many of the great women of champagne, were widows and mothers, who became major influencers in the champagne industry. At the time the only way a woman could be at the helm of a business was to take over after the death of her husband. So successful were the veuves, it is rumoured that some producers added veuve into their title, even when there was no veuve at the house!
Veuve Clicquot – Veuve Barbe-Nicole Clicquot-Ponsardin
In 1805, after the death of her husband, Madame Clicquot at 27 years old became one of the first businesswomen of France when she took over the Clicquot business. In an era when women were excluded from the business world, she dared to assume the head of the company – a role she undertook with passion and determination. According to the Veuve Clicquot company description of her, Madame Clicquot's character might be summarised with two words: audacious and intelligent.
Imagine the audacity of this decision at a time when women were not even allowed to open their own bank account!
She is credited with many innovations that have steered the success of champagne – the riddling process to remove the sediment from the bottle; improving the bottle so it would withstand the pressure of the bubbles; creating Rose champagne by adding some red wine; and her PR and branding, creating the first labels on a champagne bottle – the yellow label that still adorns the Veuve Clicquot bottle today.
I love the story of Veuve Clicquot, you can read more about her on our blog here:
Madame Pommery – Jeanne Alexandrine Louise Mélin Pommery
It was upon her husband's death in 1858, that Madame Pommery, assumed full control of the business. One of her first decisions was to sell off their struggling wool business, and concentrate on the Champagne wine business. And, we are so glad that she did!
"I decided there and then to carry on the business in my husband's stead"
With those words, the young widow set out to conquer national and international markets –overturning, without any qualms whatsoever, one or two corporate management rules. She was a true trailblazer, laying down the basis for any luxury product promotion; style, brand, communication and public relations on the estates.
She invented the modern style of champagne with the introduction of Brut Champagne, Brut being a much drier style was a bold initiative, as at the time the prevailing taste was for very sweet champagne (up to 300gms of sugar per litre, compared with now, depending on the level of Brut, is up to 12 gms per litre).
Only 10 years after taking over the business she built the Pommery Estate which at the time was the biggest building site of the century in Reims. This grand site is still the home of Pommery and is an amazing place to visit. Madame Pommery described her champagne in two words; "Joyful and Lightness". Now that is something to be celebrated!
Another amazing legacy, you can learn more about Madame Pommery in our Bubbly Appreciation Course and on our blog here:
Lily Bollinger – Élisabeth Law Lauriston-Boubers-Bollinger
In a new century, another amazing lady, Lily Bollinger took over the presidency of the Bollinger house after the death of her husband Jacques in 1941, and directed it until 1971. She launched the Bollinger RD vintage in 1961 and the vintage Vieilles Vignes Françaises in 1969, putting the brand on the international stage. She is credited with introducing the brand to celebrities of the time. When asked by a journalist from the London Daily Mail in 1961 "When do you drink champagne?" her witty and facetious answer is still quoted today as an exquisite definition of champagne:
"I drink it when I'm happy and when I'm sad. Sometimes I drink it when I'm alone. When I have company I consider it obligatory. I trifle with it if I'm not hungry and drink it when I am. Otherwise, I never touch it — unless I'm thirsty…"
Historically there have been some great women of Champagne. But what is it like today?
We asked Floriane Eznack from Champagne Jacquart about women working in Champagne today.
Floriane explained about the role of the wine maker, and how in Champagne the main responsibility is to produce the consistency of style in the non-vintage blend.
As a young winemaker, Floriane earned a Masters Degree in Oenology in Reims in 2004. Her studies included a couple of harvests in some of Champagne's finest Houses, including Moët & Chandon. She joined Jacquart in January 2011 as Chef de Cave (Chief Winemaker), where she plays a central role in the creation of the finest quality blends for all of the Jacquart's champagnes.
In our interview Floriane shares with us her motivation for working in the industry, and how she gave up her dream of becoming a fighter pilot! When she chose the wine industry, it was clear, she didn't want to work with any other wine, but bubbles; "Not just bubbles for celebration, but a wine that everyone loves. It cheers you up and makes you happy and there is a magic behind champagne" she says.
See our interview with Floriane here:
An update to this post. Floriane moved on from her role at Jacquart and Champagne, at the end of 2019, but you'll still be drinking her legacy at Jacquart for a little while longer.
More features and stories on the modern era of women in Champagne, coming soon in our blogs and Bubbly Appreciation course. Stay tuned for that.
Until then, let's raise a glass to celebrate these amazing women.
Cheers!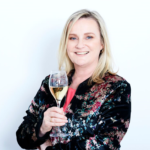 Natalie Pickett is the Founder of The Bubbles Review which is for people who like champagne and other bubbles, written by people who have a love of all things sparkling! At The Bubbles Review, we like to debunk some myths, make the art of drinking champagne accessible, explore bubbly regions and champagne bars, and provide events for you to join us and indulge.
Like to keep following us? Sign up to The Bubbles Review list and you will be included in our Subscriber prize draws. The monthly giveaway is usually a chance to win a lovely champagne or sparkling gift. Join our list!